The Last War of the 20th Century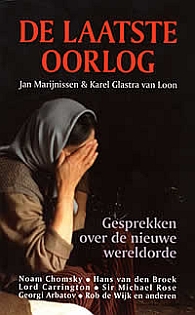 Discussions on the new world order
On the threshold of the new millennium, Jan Marijnissen en Karel Glastra van Loon spoke with prominent experts
in the area of peace and security, both within the Netherlands and abroad.
They asked a broad selection of people, including Lord Carrington, Sir Michael Rose, Hans van den Broek, Noam Chomsky, Rob de Wijk and Georgi Arbatov about their views on the new world order, before writing an extended essay on the Dutch role in international conflicts.
In part 2 the writers discuss at length the conclusions they draw from these conversations.
You are here