SP Conference – Marijnissen calls on the parties to unite and stop the division
23 September 2023
SP Conference – Marijnissen calls on the parties to unite and stop the division
At the 28th conference of the Dutch Socialist Party, the SP established its election programme and the list of candidates for the Lower House elections of 22 November. Hundreds of delegates from the various fractions of the SP came together to make the final adjustments to the election programme. 
With a strong list of candidates and a great programme, we are ready for the elections. Lots of politicians are currently talking about socio-economic security, but for the SP, it's about concrete solutions. That is why we are launching the "United against division" manifesto and call on all parties to address this so that people can vote for a party they can rely also after 22 November.
In her speech, SP leader Lilian Marijnissen called on the Cabinet to take budget cuts in health care off the table, to lower the salaries of politicians and make their special wages guarantee equal to the unemployment benefit for ordinary people.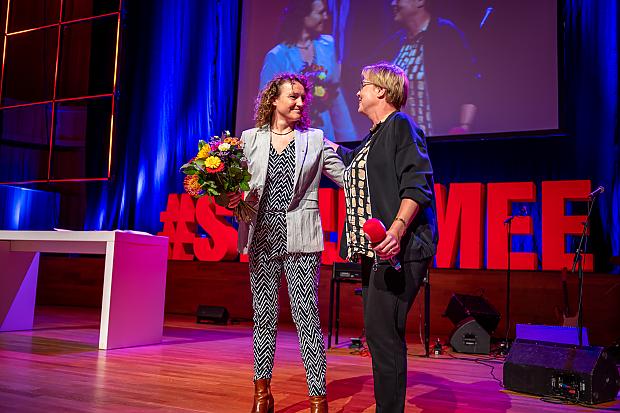 Golden Tomato for Renske Leijten
Renske Leijten was awarded the Golden Tomato, the highest honour within the SP, for her unrelenting work in the Lower House. Leijten is largely known for her timely efforts during the subsidy scandal, when she showed the maligned parents that they were not alone and joined them in taking action. In the past, she was fully committed to protecting our health care sector. Together with ambulance personnel, she was able to stop the introduction of market forces in ambulance care not once, but twice. She also rallied for the National Care Fund and for those senior citizens who had lost their home care benefit due to decentralisations. Party Chairman Jannie Vischer had the honour of pinning the Golden Tomato on Leijten.
You are here