Introducing the Dutch Socialist Party
The Dutch Socialist Party (SP) has become one of the biggest political parties in the Netherlands. As a modern socialist party, it has attracted an ever larger electorate. The party seeks to build a society based on human dignity, equivalence and solidarity. To achieve this, the party is active both inside and outside Parliament.
What is modern socialism? What kind of world do we want? How does our party manage to attract tens of thousands of active members and more than a million voters? With this website we will try to answer these questions.
The SP stands for a programme of principles, called 'The Whole of Humanity' ('Heel de Mens'). It contains the core of the SP's vision of society and the alternatives proposed by us. Our positions and activities are based on three concepts: human dignity, equivalence and solidarity. It is these values that in the course of many centuries have emerged as essential and indispensable aspects of human civilisation and progress. Human dignity, equivalance and solidarity constitute, together with our rational analysis of the world, the yardstick against which we measure developments and judge alternatives. Whatever we consider as positive from this perspective, we attempt to promote; whatever we consider as negative we try to prevent or combat.
Human dignity is the respect of one person for another, the right to decide freely the direction
society should take, a secure existence for everyone, and a fair chance for every person to live in freedom and strive for his or her own happiness.
Equivalence means that everybody counts equally. On this basis we promote tolerance throughout society and fight every form of discrimination.
Solidarity between people is necessary because the opportunities afforded to one are less than those enjoyed by another. By helping and caring for each other we can give a fair chance to everyone to lead a fulfilling life.
The most active party in the Netherlands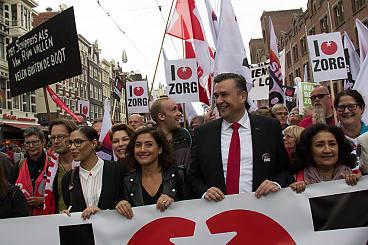 Members of the SP come from all walks of life. Factory workers and students, nurses and maintenance engineers, accountants and civil servants, school students and pensioners all work together in our party. Every member is part of a local branch and can participate in decision-making at branch meetings. Each branch chooses its own executive, nominates candidates for elected office and sends delegates to the Congress. On this basis the SP's national organs – the Party Executive, the Party Council and the Congress – are also democratically elected and controlled.
The SP is represented at all levels in Dutch politics. We have fourteen Members in the 150-seat 'Tweede Kamer' (corresponding to the House of Commons or House of Representatives), four in the Eerste Kamer (the Senate) and many representatives on city and local councils and in provincial assemblies. The SP forms part of the local governing coalitions of forty municipalities, some of which belong to the largest Dutch municipalities.
Participation in national government is considered only a matter of time.
The SP's elected representatives donate their allowances to the party, and are reimbursed only for certain out-of-pocket, receipted costs. The surplus helps to cover the party's activities. Representatives working for the party full time receive a modest professional salary.
You are here