SP Congress in militant mood: Not for the few, but for each other!
30 January 2018
SP Congress in militant mood: Not for the few, but for each other!
"The future is not for predatory capitalism, but for the people. The future doesn't belong to the market, but to us. Together we will fight for a world where it isn't the interests of the few which count, but those of us all." This was the theme of Lilian Marijnissen's speech to the SP Congress, her first since she became the party's leader late last year.
Almost a thousand members were present in Hilversum for the SP's XXIII'rd Congress. Addressing the assembled delegates, SP Chair Ron Meyer told them that "our civilisation came about thanks to collectivism and struggle - and despite capitalism." The new generation – a leader of 32 years, a national secretary of 30 and himself, "an old man of 36" were looking to build on the achievements of the party's founders and those who had built it. "Comrades," Meyer declared, "with your ideals in our heads and your militancy and courage in our hearts" he was confident that "our mission will progress." The SP "is ready to take the next step." His message to the right, to those who were looking to "sell our public interest and sell our society", was "bring it on."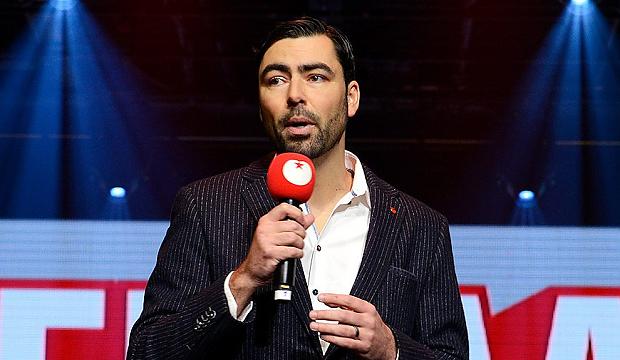 Main items of the business on the agenda were largely organisational, with delegates debating the proposed Congress statement 'Voor Elkaar' ('For Each Other'), and former leader Emile Roemer, who resigned in December before leaving Parliament earlier this month, addressing the Congress. "You can never do things on your own," he told delegates. "With each other, we have built a party which doesn't just stand up for itself, but for all the people who count on us. In recent decades a right-wing wind has been blowing across western Europe and across the world." A very small group of people has pocketed the profits of this while "a very big group have fallen out of the boat." It was for this latter group that the SP was established. Roemer said that he was proud to have taken over from the leaders who had built the party, and proud of all the members who had shown that they wouldn't tolerate a situation in which some people were being offered no chance while others lined their pockets, "fight, fight, fight every day to build this fantastic party." He ended by passing on not a baton but a miner's lamp to new leader Lilian Marijnissen which would "keep the socialist fire burning as never before."
Another senior figure in the SP leadership who made way for a younger person was Hans van Heijningen. National Secretary since 2005, he was replaced by 30-year-old Lieke Smits, who was previously Chair of SP youth movement ROOD ('Red').
The Congress also presented the prize to the winner of the Rooie Reus ('Red Giant'), which is given each year to a person or group who have campaigned to improve the lives of disadvantaged or exploited people, or to expose injustices. This year's prize went to the De Groninger Bodem Beweging (Groningen Soil Movement) which is campaigning against fracking in the area, a process which is causing earthquakes and putting lives and property in danger.
The Congress in addition announced the nominations for the Paul Peters Photography Prize, for which a shortlist has been drawn up. Paul was a founder member of the SP and worked hard for the party even after he became ill. He was also a keen photographer and the prize will awarded to the year's best example of social photography. Paul Peters died in November of last year and the prize will represent a memorial for a much-admired SP activist.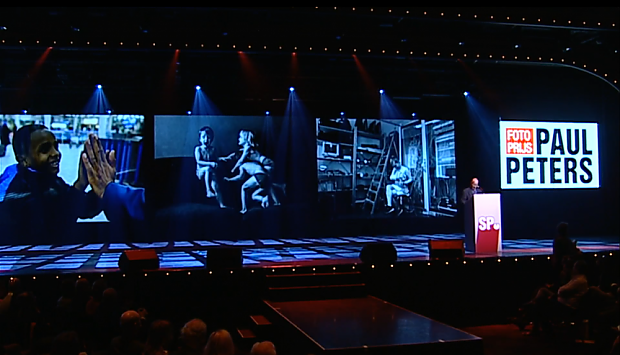 The Congress ended as always with the leader's speech, giving Lilian Marijnissen the opportunity to address a large national gathering of party members for the first time since her election in December.
Marijnissen stressed how the SP was the only party that listened to 'ordinary' people, something for which she congratulated her predecessor, who embodied this spirit. Turning to the future, she said that we live in a divided world, a world of 'predatory capitalism'. Some have access to billions, while others try to exist on $2 a day. "What does the west do? It doesn't offer aid, but permanent war" - in Libya, in Afghanistan - "but what have these wars produced? Not less terrorism, but more terrorism. Not fewer people having to flee from violence, but more." In the White House a man sits who's more familiar with twitter than with government. He wants to see the divisions not just in America but across the world increase.
Since capital has been given a free hand, Marijnissen said, huge divisions of wealth and want had emerged and widened. "If people lose their sense of security they also lose their concern for each other. As fear rises, empathy disappears." As solidarity disappears, so does society. This government is continuing what she called "the attack on civilisation." Undermining education and special education. "The teachers taking action have the full support of the SP." Undermining care for old people, and health care. "One in five directors of hospitals earns more than the Prime Minister!" The SP wants a health care system outside the market, based on a national health fund. She spoke also about takeovers and mergers, and said that vital decisions were being taken outside the country. "This is predatory capitalism. Why accept this? American shareholders should not dictate the future of our companies, our towns and villages, through takeovers."
On gender equality, she noted that there was a great deal of talk, but that most of it concerned women from the top layer. "But what about the women who teach our children, or work in shops?" The SP won't accept that women should earn less than men. The Netherlands should follow the example of Iceland, which had recently – under it's woman prime minister – made it illegal for companies to pay women below the rate paid to their male colleagues. Laws, not just talk, are needed to bring about equal rights,.
"What kind of world do we want to live in?" Marijnissen asked. Young people are having zero hours contracts foisted on them. These offer neither security, nor freedom – freedom to build their future. They must be banned. "This is predatory capitalism. A race to the bottom. The SP has to stand as an ally of people in struggle."
The SP also stands against exclusion. She said. The far right PVV, voting with the government for neoliberal measures, wants to throw out a whole section of our population. "They fight for the votes of the ordinary person but not the interests of the ordinary person."
Society mean that everyone can participate, but also that everyone must contribute, that everyone must underwrite our society's values and not only underwrite but practice human dignity, equality and solidarity. We look after each other and don't look the other way. You aren't judged by where you come from but what you do. "In our country boys and girls sit in same school side by side. Women who go for a night out aren't seen as 'whores'." Our national idea is "human dignity, equality solidarity." It's also one which calls for involvement. "This idea is disappearing but we want to bring it back."
She asked delegates to make sure they and their branches put immense effort into the 21st March local elections, not just to win votes for the SP but also to get people to vote in the referendum on a law which would make it legal for the government to enter your computer and steal your data, hand it on to foreign agencies, all without the usual due process. The government has also stated that this will be the last referendum, that it's going to move to abolish them, so a high turnout is important, But a strong SP in local government is also important.
The SP, Marijnissen continued, "is ready to tackle Rutte and take our country back from his predatory capitalism" and to build towards "a government which stands with the people, with the 90%."
There is, we are told, "no alternative to capitalism, that we are unrealistic. But we know better. Is it unrealistic in one of the world's richest countries to demand that everyone has decent housing? Is it unrealistic to ask millionaires and big corporations if they will pay fair amounts in taxes? Is it impossible to give people some control over their neighbourhoods and workplaces?"
The SP leader concluded her maiden speech to a National Congress by insisting that "the future doesn't belong to predatory capitalists, but to the people. The future doesn't belong to the market, but to us. We will keep fighting for a world in which it is not the interests of the few but the interests of us all which count."
You are here