Seize the power!
20 February 2017
Seize the power!
Summary of the SP election manifesto for March 2017
The Netherlands has more millionaires than ever before, yet more than a million people can't afford to pay the costs of the health care they need. The difference between the big earners at the top and the rest of the population has been deliberately widened by this government. Prime Minister Mark Rutte has taken good care of directors and executives, of the banks and multinationals. In the wake of the crisis this elite is richer than it was before it. Yet for most people, vital services such as affordable care and social security, have only declined.
People are happier in a country where such differences are narrower. I want to live in a Netherlands where we deal with each other in a friendly fashion. A country in which people don't have constantly to compete with each other, where it's the people and not the financial markets which have the last word. I can't allow people to be played off one against another in our country: rich against poor, religious believers against unbelievers, or young against old. I want to combat egotism and strengthen unity. For our shared future.
The Netherlands should be a country in which everyone can participate and everyone can feel at home; a country in which you aren't judged on your origins or background, but on your own efforts; a country where everyone's opinion counts; but one also where you respect others; a country where you grant everyone the freedom you enjoy yourself. We don't want to set people against each other, but instead wage a common struggle for our common interests. On 15th March you will decide our country's future. And you can join us in making a social Netherlands possible.
Seize the power! I'm counting on your support.
Emile Roemer, Number 1 on the SP candidate list.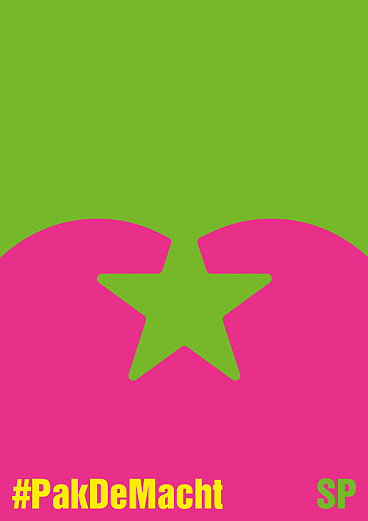 ---
1. Stop MARKETISATION IN HEALTH CARE
A National Health Fund will be created; we don't need the health insurers any longer. Dentistry, physiotherapy and mental health will be covered for everyone. People's health, not the pursuit of profit should be the purpose of a health care system. Getting ill is not a matter of choice, so the excess charge which patients must pay for themselves will be abolished. Premiums will depend on a person's income, to the advantage of people on middle incomes and below.
2. More work and more purchasing power
We will raise the minimum wage by ten per cent, and along with that the social minimum income. The link between wages and benefits will be retained, so that amongst other benefits the 'Wajong' payment for young people with disabilities, supplementary benefits and retirement pensions will also go up by ten percent. The pensionable retirement age will be lowered to sixty-five, so that no-one over that age need work. There will be a national plan of attack to prevent and combat poverty.
3. Fair shares and fair TAX payments
We will put an end to the Netherlands' role as a tax haven. From now on big corporations and multi­nationals are simply going to have to pay their taxes, so that we can invest in our society. We will introduce a special millionaires' tax. Taxing assets more fairly means that the ordinary saver will be better off. Those on middle incomes and below will pay less. There will be a national people's bank where our savings will be secure and bankers won't get bonuses.
4. OUR 'small class struggle'....for Better Education
We will begin the fight for smaller classes, and thus for better education, working towards a target of twenty-three pupils per class. We want a study grant for all students, with those from low-income households receiving a higher supplementary grant, thus removing a financial obstacle. We will make it easier for young people who want to continue their schooling, preventing those who need more time to advance from dropping out altogether.
5. Affordable housing in a livable neighbourhood
In the past six years social housing rents have increased by thirty per cent, and as a result more than half a million people have difficulty paying their rent. Because of this tenants will see their rents reduced. We will give housing associations much more money and at the same time oblige them to build affordable accommodation, lower rents on existing stock and improve energy efficiency, thus reducing the cost of living. Selling off of social housing by housing associations will be restricted.
6. LIVING TOGETHER, NOT APART
We will resist division at school and in the neighbourhoods, for example by building housing from a range of price categories in the same locality. All schools should begin from the starting point 'together to school'. It's unacceptable for schools to reject children because they don't fit the particular establishment's basic principles.
We want to see small scale reception facilities for refugees and a rapid handling of the necessary asylum procedures. Governments must reflect the broader society and conduct an active diversity policy, including for LGBT people.
7. More Police officers, no class justice
Neighbourhood police officers are essential to keeping neighbourhoods safe, to strengthening social cohesion and recognising early signs of radicalisation. That's why we want more of them. At the same time, we will ensure access to law, lowering costs and increasing the availability of legal support. We will invest in more financial investigators, so that we can hit criminals where it hurts, in the wallet. From now on, white collar criminals will be stripped of their financial assets.
8. SUSTAINABLE ENERGY IN A HEALTHY ENVIRONMENT
Going over to sustainable energy will be achieved with the people, and not despite them. Additional investment in sustainability must also lead to more employment, appropriate training and lower costs for the public. We will cut gas drilling in Groningen by half, reducing it to a safe level. Intensive industrial farming which takes no account of animal welfare must be transformed into animal-friendly and sustainable husbandry. We want a clean society in which 'waste' no longer exists, but raw materials are as far as possible reused.
9. A referendum on another Europe
Europe was once meant to promote peace and prosperity, but has become a political project that is undermining democracy and which offers maximum elbow-room to multinational corporations. We will begin negotiations on a new European treaty, a treaty in which we will reinforce the independence of the affiliated countries by increasing their citizens' opportunities for participation and handing member states more powers. We want to abolish the European Commission and its power to prescribe regulations.
We are against free trade agreements such as the TTIP and CETA.
10. SEIZE THE POWER
Together with members of the public and with social coalitions we will fight against inequality and for good services and democratic control. Not only the teachers and other staff but students and their parents will be given more influence over education. In health care, staff and patients will have more say in relation to investments and the deployment of personnel. All large firms will have meetings of their employees and their decisions will carry as much weight as the shareholders. We want to see a referendum that counts and where a 'no' is always a real 'no'.
You are here