XXII SP Congress: Roemer kicks off election campaign with call for a progressive pact
17 January 2017
XXII SP Congress: Roemer kicks off election campaign with call for a progressive pact
On Saturday 14th January more than a thousand SP members gathered in Tilburg for the party's twenty-second congress. On the same day, in an interview with national daily Algemeen Dagblad (AD), party leader Emile Roemer called for a pact between progressive parties and ruled out going into any ruling coalition with the VVD, the right-wing element in the present two-party government. Roemer told AD that "in saying this I am giving you a guarantee that we will not help the right to form a majority". His aim is to persuade other parties to join him in isolating the VVD, which unlike its Labour Party coalition partner is performing respectably in the polls. "When people vote for a left party they expect left policies," he said.
It was, however, SP Senate leader Tiny Kox who spoke first at the Congress, which was for the first time being held in his home town, an industrial city and one of the very few which had an SP branch from day one, when the party was founded, in 1972. At the last regional elections the SP emerged as Tilburg's biggest party. It is now the party's job, said Kox, to transfer this support to the national level and work hard to ensure that on March 15th the voters make them the biggest party in Parliament.
Fight for the common interest
Congress Committee chair Ronald van Raak explained what the party was trying to achieve with the proposed manifesto, the document which would be debated and voted on during the day, along with hundreds of proposed amendments. He then issued a call to arms. "Tomorrow the campaign begins," he told delegates. "We are expecting an excellent fight, with our principles as its basis, human dignity, equality and solidarity. We're about breaking the power of the multinationals. We won't be bullied by the dictatorship of the market. The SP is a party for ordinary people who struggle together for common interests.
"Take the matter of dignity and you can see how old people in care homes are being treated. Equality is the issue when your income determines whether you can study. Solidarity is under pressure when you look at the fact that the growth of banks is matched only by the growth of food banks. If the SP didn't exist, we'd have to invent it!"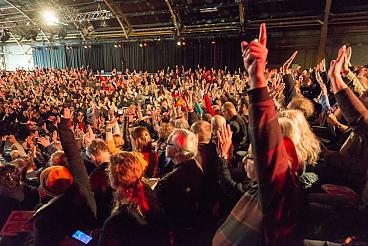 Candidate List: A team of militant socialists
Party chair Ron Meyer formally proposed the list of candidates for the March 15 election agreed by the commission charged with making the selection, a list which must then be confirmed, or may be amended, by the party congress, the SP's highest authority. "We have a team whose members have rich experience at all layers of the party," said Meyer. "We wanted a team with drive and we set the bar high. Candidates must be members of the SP, subscribe to our positions and disseminate them, have a strategic political understanding, and participate in activities beyond parliament." Candidates must also confirm that they understand and agree to the payment system prevailing in the SP, where MPs must agree to pay a large slice of their salary to the party, holding on to the equivalent of the average skilled workers wage. The SP is not interested in creating careers in politics. It looks for people with a broad knowledge of the issues. "They need to be generalists," Meyer continued, "they must be militant, and able to resist all kinds of pressures. We made a thorough assessment. It's like building a house, where every stone is committed to the entire structure. I'm proud of this combative and innovative list."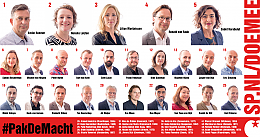 Former SP leader Agnes Kant, who acted as an advisor to the Candidate Commission, added that she was touched by people's enthusiasm and the amount of talent available. "We spoke to a great many potential candidates: young, old, men and women, and interviewed hundreds, conducted follow-up interviews with dozens, and held numerous candidates' weekends." The result of the five-month selection process was, Kant said, "a fine, well-balanced list."
One interesting feature of the list is that four of the top six candidates are women. Most SP Members of Parliament are running for re-election, but several have decided to stand down. The loss of experience will demand hard work from the new team, but it has enabled the party to bring in fresh blood.
Most of the day's debates focussed not on the candidates' list, however, which the Congress approved without amendment, but on the party's manifesto, which was on the contrary the subject of hundreds of proposed amendments.
Almost every point of the manifesto was subject to amendments. Issues covered included many aspects of social, economic, and environmental policy, as well as the need to defend democracy against the neoliberal and europhile onslaught. Budgetary matters were dealt with first, logically enough, followed by a host of domestic issues which will nevertheless resonate with international readers in most countries, and certainly in every EU member state: marketisation and cooperation in health care; the SP's proposed investment programme aimed at overcoming years of destructive neoliberalism and generating meaningful employment; the benefit and taxation systems; education; affordable housing in safe, pleasant neighbourhoods; access to the law and an end to class justice; the need to create opportunities for young people and offer them a future; a 'free and secure internet'; sustainable energy; environmental policy; transport policy; cooperation not coercion as a basis for another European Union; migration and refugee policy; and the need for the Netherlands to be an active force for peace and the preservation of peace. The amendments were presented by branches who debated the proposed manifesto after its release in early November. There are more SP branches than ever, and more controversial political issues as well as greater desperation to see the back of a right-wing government with its acquiescent Labour Party minority. What the SP would most like to see is a pre-electoral agreement between the three left-of-centre parties around a common progressive programme which excludes any coalition with the VVD, cooperation with the far right being already ruled out by not just the SP, but (at least on paper) everyone else in Parliament.
The upshot was a long, gruelling voting session resulting in the manifesto on which the SP will fight the election.
Leader's speech
The manifesto at last approved after a long day of debate, Emile Roemer closed the conference with a rousing speech to prepare his party for what everyone recognises will be a difficult election. Thanking everyone inside and outside the SP who had helped organise the party's biggest ever congress, he congratulated the delegates on a what he called a "sharp manifesto and a fine team.
"We have just sixty days," Roemer continued, "sixty days to convince people of the importance of these elections. Sixty days to convince people of the importance of a strong SP. Get out onto the streets and you'll hear a lot of people say that the Netherlands is a beautiful country but what have we had in recent years but ugly politics?"
The centre-right majority party in the coalition with Labour has imposed €50 billion in spending cuts which have hit hard at those people least able to afford it. "Old people who cannot any longer get into a care home. Young people forced deep into debt if they want to study. Tenants who have seen their rent rise by 30% in just a few years. People who have ever less control of their own neighbourhoods.
"What future has a young person now?" Roemer asked. "No steady job, no housing, no financial support for studies. Since the end of the Second World War every generation has grown up with the hope and the confidence that they will be better off, that our society would stride forward. Now a generation is growing up which no longer finds this hope or this confidence self-evident. And that goes deeper and further than disagreeing with a political party. It's about the destruction of the belief in progress of a generation which should be being prepared to pick up the baton.
"Most people want the same things, whether they're young or old, male or female, white or black. A steady job with a reasonable income, Affordable health care. Decent education where you can also learn a trade or profession. Affordable housing in a safe neighbourhood. Most people want to live in a country where we don't look away from each other , but rather look after each other. I'm proud to belong to a party that never turns away from problems. "
This was, Roemer told delegates, the party that is always ready and willing if there was work to be done, in neighbourhoods and the party's aid services, on local councils. He said that he felt at home in the SP "because these are the values with which I was brought up." His father had been in the Rotterdam Resistance during the war, seen many of his comrades shot by the Nazis, had narrowly escaped the same fate after his arrest in October, 1944, something Emile Roemer didn't know of until children of other fathers involved in the Resistance told him about it a few years ago. But, he said, "I'm under no illusions. It's easier to be proud of another's deeds then to show courage yourself when the situation demands it. I hope that in crucial moments in my life I have shown the same courage as my father did more than seventy years ago."
Roemer then described the kind of person and the kind of politician he wanted to be: one who dares in a time of despair to opt for what belongs to us all, and not for myself; that doesn't only protect what is his, but stands up for others when their freedoms and safety are at stake of others; that's prepared to take action if he sees abuses and that never looks the other way; not the kind that sells a lie then says he's sorry.
"But these elections aren't about Emile Roemer," he reminded us. "These elections concern and must concern essential changes which are needed, changes which people need if they are to be able to contribute, to make ends meet, to be taken seriously. Changes which all of the people in this country deserve. Changes which are so badly needed."
The SP has made the fight to defend and improve the health service in the country a priority, and this was reflected in the next part of Roemer's speech. A decade of marketisation, he said, has meant that instead of being able to work with each other to raise the quality of care, we have competition between care providers who waste 30% of their time on bureaucracy, and we have care home closures, and old people left alone at home. Home helps had seen their wages fall by 20% while the executives and the companies they work for are raking it in. Waiting lists in hospitals are lengthening daily. More than a million people can no longer pay the costs of health care. It's said that health care is too expensive, but it's the system that's too expensive. The SP's proposed National Health Fund would address these issues, and a quarter of a million people have signed up to support it.
Roemer then turned to the SP's other priorities. Rents have risen in recent years by 28%, waiting lists for affordable housing and are huge. At the same time, 80% of the population is worse off in terms of income than they were fifteen years ago, while the richest 20% have grown richer and more than a million people in the Netherlands live below the poverty line. The SP's plan to tackle inequality begins with a 10% increase in the legal minimum wage. "It's unacceptable to me," said Roemer, "that children are growing up here in poverty."
"The financial sector needs addressing", Roemer said. Banks are too big, the buffers are set too low and greed is making a comeback. "Stop putting our banks on the stock market and create a real People's Bank."
"Put a stop to unregulated labour migration, attack exploitation, discrimination and growing racism."
"Instead of more motorways, we need better and cheaper public transport."
"Sustainability and green energy policies instead of drilling for gas."
Restore democracy. A no in a referendum means no. And we will fight hard for another Europe, where Brussels doesn't dictate and there's no place for a European Commission, a European army, or a European Public Prosecutor.
Challenging the myth of TINA (There Is No Alternative), Roemer said that "the policies adopted in recent years didn't fall out of the sky and are absolutely not a natural phenomenon. They are the logical consequences of an ideological vision, a view of society. In the last thirty years the VVD has participated in government for twenty-five of them and has determined the course of government.
This has to end. If you organise a society on the lines of an 'every man for himself and God for all of us' mentality, you shouldn't be surprised if ever fewer people look out for each other."
Referring to the far right leader Geert Wilders, Roemer noted that there was substantial support for the VVD line from Wilders' PVV, that they not only set people against each other, but they have voted mostly – and more than any other parliamentary group - with the VVD, for example when it came to the marketisation of health care, raising the pension age, the selling off of rented accommodation and the destruction of social workplaces.
The SP has "a fundamentally different view of society" to that of neoliberalism, which is responsible for "the splintering of the society, the hollowing out of democracy, increasing division and the dismantling of our communal services."
That, Roemer said, is what these elections are about.
"We are helping people to take back the power."
There needs to be a change of direction. To allow the VVD to stay in government by agreeing to govern with them, as the Labour Party has done, is shameful. "If you want to combat the neoliberal thieves, don't hoist the white flag of surrender in advance of the fight." If progressive Netherlands wanted Rutte out, "you don't surreptitiously apply for the position of his left-wing lackey. So we must work together to kick the VVD out on March 15th.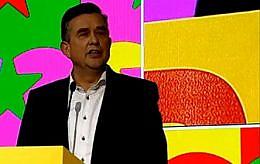 "Today I call on other progressive parties to join us in making this clear. Let's work together on the most important Dutch values." Roemer's message was that he wants a society where everyone can participate, where we can build a society in which we look after each other, where we speak the same language, where we have equal opportunities; where human dignity takes centre stage. Where cooperation is the norm instead of competition between people. Where everyone has access to health care, the law, an income and a place to live. Where policies are aimed at sustainability and international solidarity.
"So let's get to work," Roemer concluded. "Together we will make the SP great and Rutte small. We will go into the streets, into the neighbourhoods. For the people and with the people. It's going to be a long, hard campaign. But we're ready for the fight. I'm ready for the fight. Seize the power!"
You are here