Elections 'a spring cleaning'
4 May 2010
Elections 'a spring cleaning'
'A spring cleaning!' this will be the slogan for the SP campaign for the upcoming national election. "Dust off the old politics and clean it with a sponge," were the words of Emile Roemer, the brand new party leader of the SP, in his speech to the party's national congress in Amsterdam. "My advice for voters who are still in doubt is this: vote for a thorough spring cleaning. A single vote for the SP will count four times. It will strengthen the SP, keep the Labour Party on the left, send home Prime Minister Balkenende and keep the right-wing liberals out of government."
Emile Roemer (47) succeeded Agnes Kant as SP leader after the municipal elections that were held in March of this year. Kant chose to step down because of the loss the party suffered in that election. She feared that the public might see the loss as a result of her performance and considered that this would not be in the best interest of the party.
The SP parliamentary group chose Emile Roemer as a provisional leader, shortly after Agnes Kant stepped down.
"We should respect and honour her decision." said Roemer after he was elected, "It might be difficult, but we will always carry on. The SP will always carry on." During the congress on 26th of April in Amsterdam, Roemer was confirmed as party leader by a large majority of the delegates.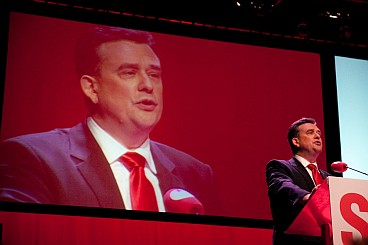 Former teacher Emile Roemer joined the SP in 1980. He was chair of the local division of the party in Boxmeer and leader of the political group on the municipal council. In the election, under his leadership, the local SP became the biggest party. After this victory Roemer was appointed as a 'wethouder' – the equivalent of a minister in national government - and deputy mayor for Boxmeer. In 2006 he was elected a member of parliament.
The SP is ready for a tough campaign for the national elections. The 'Spring Cleaning' slogan is a reference to the well known tomato-shaped sponges, which have been around as SP election merchandise for many years. These sponges are often asked for by people on the street. But it also refers to a recent victory of Dutch cleaners, after a three-month strike for better wages, a strike that was supported by numerous Socialist Members of Parliament, including the party leader Emile Roemer.
You are here