Kox receives King Willem Alexander and relatives of MH17 victims in Strasbourg
23 June 2022
Kox receives King Willem Alexander and relatives of MH17 victims in Strasbourg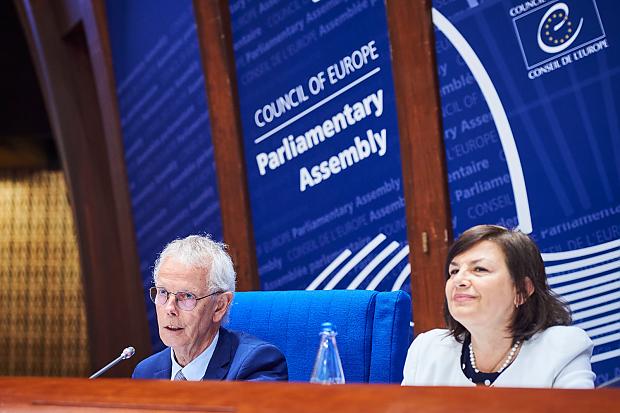 On Thursday, the Council of Europe received King Willem Alexander in Strasbourg. The King was invited to the Palace of Europe to address the Parliamentary Assembly. Tiny Kox, President of the Parliamentary Assembly of the Council of Europe, received the King in his office in the morning. They talked about the MH17 disaster debate that was to take place that day. Some relatives of victims of the MH17 disaster were present at the debate. They too were received in the morning by Kox, where they talked about the realisation and consequences of the report.
The report on the responsibility of downing of MH17 was unanimously adopted by the Parliamentary Assembly. The Assembly stated that by far the most convincing scenario for the crash of MH17 is that an anti-aircraft system donated by the Russian Federation caused the air disaster.
Prior to his speech to the Assembly, the King briefly attended the debate. In his address to the Assembly, the King stressed the great importance of the Council of Europe and the continent-wide legal protection offered to all Europeans by the European Convention on Human Rights and the Strasbourg Court of Human Rights. He warned that brute force must not win out over the rule of law and democracy.
You are here