SP Senator Kox new President of the Parliamentary Assembly of the Council of Europe
23 January 2022
SP Senator Kox new President of the Parliamentary Assembly of the Council of Europe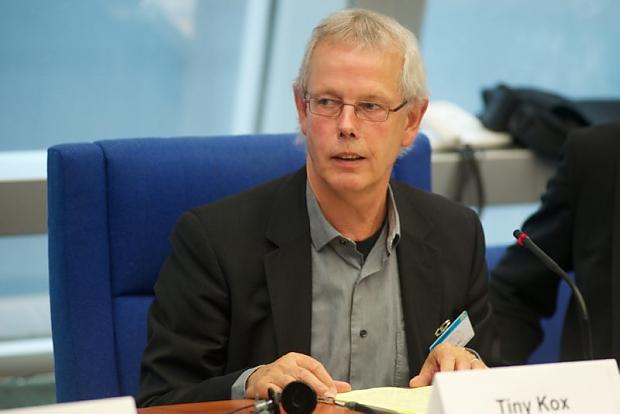 Today in Strasbourg, SP Senator Tiny Kox was elected as the new President of the Parliamentary Assembly of the Council of Europe. He will succeed the Liberal Belgian Senator Rik Daems, who had completed his two-year term. After former Minister Hans de Koster (VVD) and former Secretary of State and President of the Senate René van der Linden (CDA), Kox is the third Dutchman in this position for the European Treaty Organisation, founded in 1949. At present, there are 47 Member States participating in this organisation. These include all EU Member States and major European countries such as Russia, Ukraine, Turkey and Great Britain.
Tiny Kox has been a member of the Dutch delegation of Lower and Upper House members in the Parliamentary Assembly since 2003. Since 2007, he has led the group of the United European Left Party there, one of the five political groups in which the members of the assembly are organised.
In his acceptance address, Kox said that all countries participating in Europe's oldest and largest treaty organisation are voluntarily committed to achieving greater European unity in order to protect and realise shared ideals and principles. When tensions are rising in Europe, many places see rules of law, human rights and democracy, the core values of the Council of Europe, coming under pressure. In order to reduce tensions and find solutions, Europe needs more than ever an 'agora of Europe', a meeting point for international European diplomacy. The Parliamentary Assembly offers its 324 elected representatives from 47 Member States a unique opportunity, as parliamentarians, to discuss fundamental issues and to find solutions in the interest of the 830 million Europeans.
The Strasbourg assembly has the power to make recommendations to the 47 ministers of foreign affairs, who together form the Committee of Ministers. The assembly also elects the 47 judges of the European Court of Human Rights, to which any European can turn in the event of a violation of their fundamental rights by a member state. The Secretary-General and the Commissioner for Human Rights of the treaty organisation are elected by the members of the assembly. Since recently, the assembly also has the power, together with the ministerial committee, to take action against a member state that is in serious breach of its treaty obligations.
Kox referred to the fact that the Assembly, which he will now lead, is the political machine of the Council of Europe, where conventions such as the Human Rights Convention and the Convention on Violence against Women have originated.
You are here