Tiny Kox wants to become President of the Council of Europe
7 December 2021
Tiny Kox wants to become President of the Council of Europe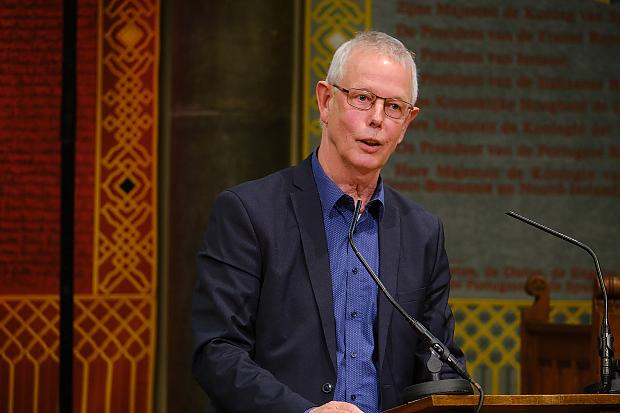 SP Senator Tiny Kox hopes to be elected president of the Parliamentary Assembly of the Council of Europe in January in Strasbourg. The Netherlands had this post only twice since 1949. Never has a politician on the left of social democracy in Europe been given such a prominent position. Kox is currently chairman of the parliamentary SP party in the Dutch Upper House.
The Council of Europe is Europe's oldest and largest treaty organisation, with 47 member states and their parliaments participating. Kox has the support of the chairmen of the Lower and Upper Houses of Parliament, and of the 14-member Dutch parliamentary delegation in the assembly, which has 318 members and 318 deputy members. The rotation agreement between the five political groups that has been in place since 2008 says that the group of United European Left may nominate the president for the next two years. Kox is chairman of that group, which nominated him unanimously. Meanwhile, there is also broad support in the other political groups for the forthcoming presidency of the Dutch parliamentarian, who has participated in the Strasbourg assembly since 2003.
The Council of Europe's treaty area now extends from Reykjavik to Vladivostok and from the North Pole to the Mediterranean, and covers the interests of more than 830 million people. One of the most important bodies of the treaty organisation is the European Court of Human Rights, which issues binding judgments on human rights violations. This week, the Court ordered the Government of Turkey to immediately release Erdogan critic Osman Kavala. It also called for the release of Selahattin Demirtas, the leader of the left-wing Peoples' Democratic Party (HDP), who has been unjustly imprisoned for five years. If Turkey does not do so, it risks suspension or exclusion from the treaty organisation.
Kox is a well-known advocate of inter-parliamentary diplomacy: 'Especially in times of crisis, it is important that diplomatic channels remain open. If Europe stops talking, the risk of shooting will increase rapidly. We must never forget this lesson that our history taught us.'
You are here