Parliament supports sp: teachers in primary- and higher education deserve the same wage
2 February 2021
Parliament supports sp: teachers in primary- and higher education deserve the same wage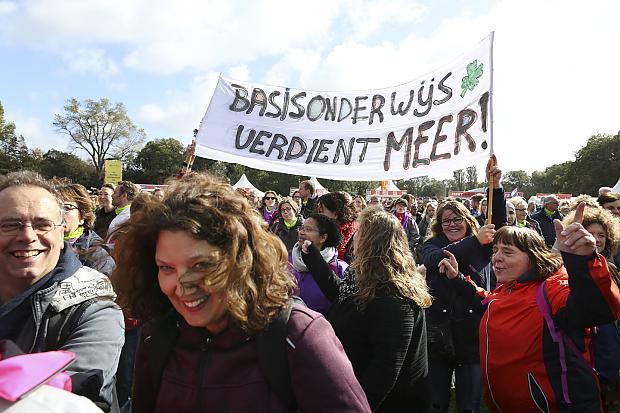 For four years, teachers in primary education have been fighting for better wages and less work pressure. The demand? The same wages as their colleagues in high schools. Until now, the political establishment were cross.
But on Tuesday, a majority of the parliament voted in favour of the proposition of SP-MP Peter Kwint: 'A historical outcome. Finally, all the teachers, who have been struggling for this for four years, have gained the support of the majority of parliament, who now state that the wage gap is no longer defendable. Now, it's time to actually close it.'
The past years, the largest education strikes ever were organised, lead by a group of activist teachers united in PO in Actie (Primary Education in Action). Successes were achieved: resources to combat workload and -pressure, money to combat workload and -pressure became available, and the wages were increased. But the biggest eyesore – the inequal wage – remains. 
From the beginning, PO in Actie could count on the full support of the SP. Kwint: 'It is good and especially important that the parliament makes clear this gap needs to be closed just before the elections. This shows that activism works.' 
You are here