Left Parties launch European petition for free vaccine against Covid-19
30 June 2020
Left Parties launch European petition for free vaccine against Covid-19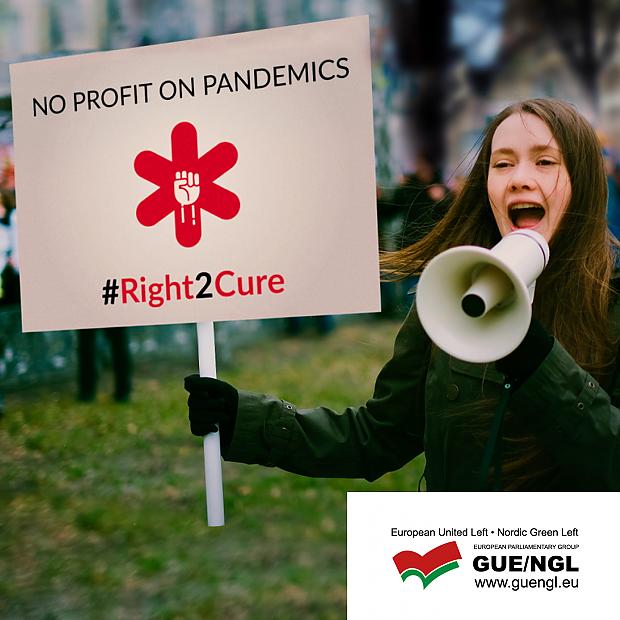 The SP launches a European petition for the free availability of a Covid-19 vaccine. The campaign is a unique collaboration of over ten left-wing parties from all over Europe, through the group of the European United Left in the European Parliament. In order to beat this pandemic, it is vitally important that a vaccine or treatment is made freely available to everyone. This is a matter of justice, but it is also crucial for public health. 
European Commission president Ursula von der Leyen promised that the vaccine would become a universal common good. But that promise was not repeated in the latest European Vaccine Strategy. With the European petition #Right2Cure, the initiators want to put pressure on the European Commission to put its money where its mouth is. In concrete terms, they ask that Europe guarantee that anti-pandemic vaccines and treatments become a matter of general and global interest, freely available to everyone.
The international signature campaign is necessary because there is a very real danger that the vaccine will become the property of private pharmaceuticals companies via patents. The corona vaccine is being developed today with billions of euros of taxpayers' money. We cannot allow private companies, that previously refused to invest in this vaccine, to now take control of the vaccine and decide on price and supply. The pharmaceutical industry bases its prices on what the patient or a country wants to pay. In this way, it maximizes profits for its shareholders. As a result, some vaccines cost a lot of money. And that costs lives. Every day. 
The participating parties refer to the American inventor Jonas Salk. Salk discovered the vaccine against the polio virus. When asked who got the patent on his invention, Salk gave the famous answer: "The people. There is no patent. Could you patent the sun?" The polio vaccine entered the international market patent-free and the disease has now been eradicated in large parts of the world.
According to the SP, the same should be true for the vaccine against Covid-19. The European Union has essential levers at its disposal for this purpose. The World Health Organization set up a "patent pool". To pool and share information about the virus worldwide. The European Union can make sure that vaccines or treatments developed with EU-funds end up in that pool. It could suffice to attach this obligation as a condition to all Covid-19 funding for the pharmaceutical industry.
The #Right2Cure petition, supported in other countries by parties such as  PVDA/PTB (Belgium) Die Linke (Germany), Izquierda Unida, Podemos (Spain), EH Bildu (Basque Country), AKEL (Cyprus), KSCM (Czechia), La France Insoumise, PCF (France), Sinn Fein (Ireland), Rifondazione Comunista and Potere al Popolo (Italy) can be signed here www.right2cure.eu.
You are here