Perpetual Occupation and Unbounded Injustice: A week in Palestine and Israel
3 September 2018
Perpetual Occupation and Unbounded Injustice: A week in Palestine and Israel
In July SP Member of Parliament Sadet Karabulut paid a working visit to Palestine and Israel. What she witnessed there was a completely unsustainable situation in which Israel is continuing to block the Palestinians' right to self-determination. "What I heard and encountered shocked me," she said. "But at the same time it has also given me a great deal of energy to continue what the SP has been doing for many years and tackle the core of this conflict: the perpetual occupation, the blockade of Gaza, and the extension of illegal settlements."
Sadet Karabulut's report of her trip covers such topics as Gaza, children's rights, the plight of human rights activists who are increasingly coming under fire,  occupation and illegal settlements, and the policies of the EU and the Netherlands. It is, of course, in Dutch, but you can read extensive highlights of the report in translation below.
---
Perpetual Occupation and Unbounded Injustice: A week in Palestine and Israel
Introduction
From the 16th to the 21st July we travelled around Palestine and Israel, visiting East- and West Jerusalem, Tel Aviv, Bethlehem, Ramallah, Nabi Saleh, Khan al Ahmar, Hebron and Susiya. We spoke with politicians and former politicians, an official of premier Netanyahu's Likud party, a high-tanking Palestinian diplomat, a member of the the Knesset – the Israeli Parliament – serving and former  Israeli military personnel, journalists, activists from Palestinian, Israeli and international NGOs, ambassadors and Dutch embassy staff, UN officials, taxi drivers and other Palestinian and Israeli citizens. Finally we spoke – via Skype, because access to the coastal strip was denied – to young people in Gaza.
We heard stories that gave us hope, from Palestinians who even after fifty years of occupation still refuse to abandon their country, continuing to build bridges to peace. We got to know too Israelis who don't accept the status quo and who also work for peace, activities becoming more dangerous in the increasingly right-wing political and social climate.
This positive energy is crucial, and deserves all support. Nevertheless, the image which loomed large in the many conversations which we conducted, as well as what we saw with our own eyes in the Palestinian territories, gave little cause for optimism. The reality in Palestine is a bitter reality, one in which a two-state solution is moving ever closer to being out of sight, if indeed it is still in sight at all. Almost no-one believes that the so-called Middle East Peace Process will deliver, certainly not now that the American government is led by Donald Trump.
1. Gaza
Amongst the many reasons to visit Palestine/Israel was the grave, disproportionate violence unleashed by the Israeli army during recent moths against demonstrators in Gaza. As a result of that violence 120 people lost their lives and, not for the first time, many thousands were wounded. These figures continue to rise. 
We were very keen to visit Gaza in order to see with our own eyes the hopeless situation in the coastal strip, the humanitarian crisis there and the Israeli villages on the border into which Hamas regularly fire rockets. As soon as we arrived at Tel Aviv airport, however, the first news that reached us was that we had been refused entry to Gaza, the home of some two million people crammed into an area of  365 square kilometres/141 square miles.
A few days later we learned from Colonel Yoav Bitritsky of the Coordination of Government Activities in the Territories (COGAT), a department of the occupying authorities, that official policy is to deny access to Gaza to all parliamentarians for political reasons. Because we believe it's important that elected representatives of the people should have such access, I have put questions on the issue to our own government in the Netherlands, asking the Foreign Minister if he knew that I had been refused access to Gaza, whether he considers this just, or whether he shares my opinion that it is "extremely undesirable that parliamentarians may not enter Gaza to see with our own eyes and thus gain knowledge of the seriousness of the humanitarian crisis in that area of the Occupied Palestinian Territories, which is in large part a result of Israel's illegal blockade." Finally, I asked him if  he was prepared to contact the Israeli authorities over the matter, to put pressure on Israel to allow MPs access and to inform Parliament of the results of these approaches. "If not," I concluded, "why not?" 
One of the young people with whom we spoke to via Skype, Bissan, told us in an emotional discourse that the recent violence fits a pattern and that young people in Gaza had already seen a great deal of war. In recent years the Israeli army has repeatedly and with extreme violence attacked Gaza. Officially the military operations are directed against Hamas, the organisation which holds the reins in Gaza and which is listed as a terrorist group by the EU. In practice, however, time after time it's principally civilians who are the victims. Since the wars at the end of 2008 running into 2009, 3,800 Palestinians have been killed, as well as ninety Israelis. In every instance a majority of the fallen were civilians, including many children. In 2014 the UN calculated the proportion of civilians at 75%. 
Israeli violence is often presented in the media as a reaction to the firing of rockets at targets in Israel, but during a meeting with Jessica Burnstein of Israeli NGO Gisha, who is fully up to date with the details of the blockade and the humanitarian crisis, it's clear why anger sometimes rises to such intensity and why people reach for their weapons. The situation is simply unsustainable. However, although the dynamic which leads to violence can be understood, it does not alter the fact that rocket attacks on civilian targets in Israel are illegal and must be condemned. 
The violence from Gaza cannot be understood if the illegal blockade is left out of the picture, which moreover neighbouring Egypt is partly responsible for maintaining and which is made worse by the Palestinian Authority on the West Bank, which, for example, fails to pay salaries to officials based there. For more than ten years, since 2007, residents of Gaza have suffered under the stranglehold of the blockade.  
Statistics throw light on the situation. Half of the population is unemployed and at least 70% are more or less dependent on humanitarian aid. Electricity is available for only four hours a day and tapwater is no longer drinkable. As a result of a shortage of fuel, the import of which was placed under further restrictions during our visit to Israel/Palestine, the sewage system has ceased to function. Unpurified sewage water is therefore released directly into the sea.
While in the past 10,000 people per day could leave Gaza, now only a few hundred are permitted to cross the border, despite the fact that 30% of the population of Gaza have family in either Israel or the Occupied Territories. Some 40% of those Gazans who need to leave Gaza for medical reasons are not allowed to do so, or have to wait a very long time for permission. Fishers are allowed to sail no more thaan a few miles out to see to catch fish, a situation exacerbated by the release of untreated sewage water into the sea. If they go any further, they risk being shot at by the Israeli marine which maintains a permanent patrol. This hopeless situation must be seen in relation to the growing number of suicides in Gaza in recent times. 
To summarise, the situation in the Gaza open air prison is intolerable, which is the conclusion drawn, also, by UN officials.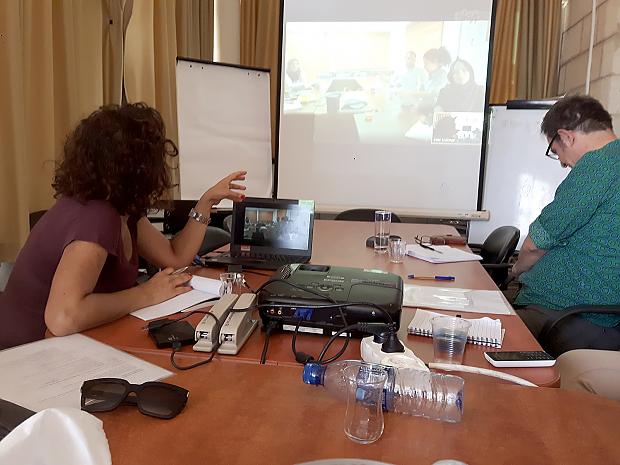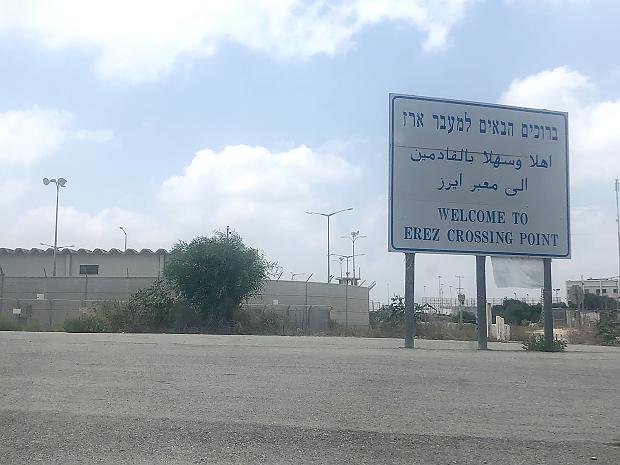 2. Palestinian Children's Rights
In addition to the two million inhabitants of Gaza, Palestinian children living in the West Bank territory are frequent victims of the occupation. This became clear during our meeting with the lawyer, Gerard Horton, of Military Court Watch, an NGO which stands up for the rights of Palestinian children arrested by the Israeli occupying authorities. The principle guiding Military Court Watch is that there is no reason whatsoever why Palestinian children should be treated any differently to Israeli children in the West Bank. Yet that is the daily practice.
Annually some 700 Palestinian children aged from twelve to seventeen are arrested by the Israelis. Almost all are found guilty, most of them for throwing stones or for intending to do so. Their rights are abused in all kinds of ways. It is, for instance, common for Palestinian children to be taken to prisons in Israel, making it much more difficult for their parents to visit them. This transgresses the law of war. Military Court Watch several years ago wrote to the Dutch Minister of Foreign Affairs. Because this letter never received a reply, I have also put a question in Parliament on the issue. 
Palestinian children are also often interrogated in the absence of a lawyer and family members, and they are subject to frequent abuse, even torture. In Hebron, for example, I spoke to a boy who at thirteen was blindfolded for three days and forced to sit in the same position. Palestinian children are usually arrested in the middle of the night and taken away blindfolded and in handcuffs. Often they are not informed of their rights, which include the right to remain silent. They are spoken to in Hebrew, which they generally do not understand well.  
Most trials result in a guilty verdict and a prison sentence of several months,as well as a heavy fine which takes no account of family income, followed by conditional release.  The reason for this is not that every arrested child is in reality guilty. Bizarrely, in the Occupied Territories Palestinian children are generally released more quickly if they plead guilty rather than prolonging the trial.  The reason is that children frequently spend a long time behind bars on remand. Continuing to stand trial often lasts somewhat longer than if the child admits guilt. Military courts thus find almost all arrested children, some 95%, guilty as charged. 
This treatment stands in sharp contrast to that of Israeli children who live in the illegal settlements in occupied Palestine and who commit comparable offences. Fir them civil law applies, rather than military law. Under civil law, children may not be imprisoned  for months on end for throwing stones, because, after all, children are vulnerable.
People who live in the settlements and commit crimes against Palestinians enjoy effective impunity. Crimes such as uprooting olive trees, poisoning livestock and violent acts against Palestinians very often go unpunished. Military Court Watch made clear to us that the unjust treatment of Palestinian children is in large part a result of the illegal settlements. Some 400,000 settlers live in the West Bank and 200,000 in East Jerusalem, amid some three million Palestinians. A large military force is needed to guarantee their security, living as they do on stolen land. Repression, including of children, is a logical consequence of the need to maintain this illegal situation.
Probably the best-known political prisoner who remained behind bars when we arrived in Palestine/Israel is Ahed Tamini, who was arrested at 16 years of age.   While we were there she was released, after eight months behind bars.  Ahed was sent down because she tried to escape heavily armed Israeli soldiers who jumped into the garden of her house, hitting them in the process. Organisations such as Amnesty International  have campaigned for her release, because her actions did not justify months of incarceration. In Parliament we submitted a motion asking the government  to intervene and call for her release, but the government responded by advising against its passage and the coalition parties voted it down.
Go to this inspiring interview, conducted in English, with Ahed's father Bassem Tamimi.
3. Human Rights Activists
A theme which kept cropping up, especially in conversations with Israeli NGOs B'Tselem and Breaking the Silence, Palestinian human rights organisation Al-Haq and the internationally active Oxfam, was the growing repression of people who stand up for human rights. The criminalisation of  the legitimate activities of NGOs in both Israel and Palestine, was reflected in two different ways.
Firstly, the Knesset adopted during our stay in Palestine/Israel a law which will hinder NGOs critical of the occupation from making presentations in schools. This affects groups such as Breaking the Silence, which collects evidence from Israeli soldiers. If the relevant minister doesn't like the idea of this, he or she can intervene to prevent presentations from this or any other NGO.
Such measures grow out of an ever more extreme right-wing political discourse in Israel, under which one far right proposal after another is brought forward and anyone opposing is easily presented as a traitor.  The presidency of Donald Trump, with his irresponsible policy in relation to Israel, such as his moving the US embassy to Jerusalem, has put wind into the sails of the radical right's policies. The result is a strongly polarised atmosphere, in which accusations of cooperating with terrorists are contributing to a growing threat of physical violence against critical NGOs.
The second example concerns Israel's refusal to admit two Dutch researchers. Two employees of SOMO (The Foundation for Research into Multinational Corporations), were refused entry because of suspected involvement with BDS (Boycott, Disinvest, Sanctions)  activities. They deny the charge, and SOMO itself does not form part of the BDS movement. On the grounds that it's unworthy of a democratic, constitutional state to exclude critical people who have the right to freedom of expression, we have also put questions to our government on this matter.
4. Occupation and Settlements
The occupation, for anyone with eyes to see, is omnipresent in Palestine. Every one of the people with whom we met and conversed, with the exception of soldiers and others directly responsible for the situation there, refer to this as the core of the conflict together with the settlements and their extension. It was often stressed to us that these would make the two-state solution a dead letter.  Others even believe that the two-state solution has already quietly died the death.
During the Six Day war in June, 1967, in which Israel took up arms against neighbouring countries Egypt, Jordan and Syria, the West Bank, as well as East Jerusalem, Gaza and the Golan Heights, were occupied. Since then settlements have been built in the Occupied Territories, which now house 600,000 Israelis, a third in East Jerusalem and a third in the West Bank. 
Countless UN resolutions have condemned the occupation and settlements. As early as November 1967, Resolution 242 was adopted by the Security Council, calling oon the Israeli army to free the conquered areas. Numerous other resolutions have condemned the settlements policy on the grounds that the rules of war forbid settling one's own population in an occupied area.
In 2005 Israel evacuated the settlements in Gaza and two years later, following the  coming to power of Hamas, instituted a blockade of the coastal strip. Because Israel no longer has a military presence in Gaza, the country claims that is no longer an occupying force there and thus has no obligations towards its population. International law looks at things differently, however. Because Israel has effective control over what occurs in Gaza, the occupation is effectively ongoing. 
Like the settlements, the blockade of Gaza is illegal, as an occupying power has a duty of care to the population, which Israel has failed to fulfil.  The International Red Cross has stated that the people of Gaza are being subjected to collective punishment, in conflict with the rules of war, and is calling on Israel to lift the blockade. Only then can the humanitarian needs of Gazans be met. This duty of care applies equally to the West Bank, where residents of illegal settlements live n prosperity alongside poverty-stricken Palestinian villages. 
Many Palestinian villages have been threatened with demolition. 4,000 homes have been demolished in what is called Area C, a region of around 60% of the West Bank Territory where the Israeli army effectively rules, and the Israeli authorities have made it known that some 12,500 Palestinian buildings in the area, those close to settlements, must also go.  At the same time, planning permission is denied for virtually all Palestinian building applications.
During our trip we visited several Palestinians in Area C who have to deal with thse problems. We spoke to Amal Nasser of the Tent of Nations project, an ecological farm near Bethlehem which prioritises education. Tent of Nations is encircled by settlements and regularly finds its fruit- and olive trees uprooted by armed settlers, who may do so with impunity. Amal Nasser is not allowed to build anything. Even  wells are threatened with demolition, while neighbouring settlements continue to expand. Under the slogan "We refuse to be enemies", Amal and her family, with the support of international activists, would rather dedicate themselves to building bridges to peace.
See a video message (in English) from Amal Nasser.
Several other visits were paid to Palestinians in different parts of the Occupied Territories, all of them faced with hardships such as no clean drinking water supply, threats of demolition, and the effects of the separation wall. This wall, which runs through a large slice of the West Bank Occupied Territory, is for that reason illegal, yet despite the fact that the International Court has ordered its demolition, along with that of the settlements themselves, building continues. Palestinian villages are split in two and farmers can be cut off from the land, a situation exacerbated by the fact that Palestinians are banned from many roads built by the Israelis. 
5. European and Dutch Policy
Despite the ongoing occupation and the expansion of the settlements; despite the blockade of Gaza and the excessive military violence used against the coastal strip's inhabitants; despite the building of the wall, the demolition of Palestinian buildings and the uprooting of olive trees; despite the incarceration of Palestinian children; despite the settlers' violence and while human rights activists are being attacked; in spite of all this, relations between the EU and the Netherlands on one side, and Israel on the other, are good. 
The EU and Israel cooperate across a range of policy areas, an this has intensified in recent years, principally on the basis of an Association Agreement which came into force that came into force in 2000 and which gives the country enormous economic advantages. Extensive trade now runs into many billions' worth of imports and exports. There is also a great deal of cooperation around research and innovation. There is no other country in the region with which the EU has such an extensive relationship. The Netherlands has similarly intensified its relations, for example under the last government when a cooperation forum was established and cooperation in the area of defence was stepped up.
When Israel enlarges its settlements, deploys crude violence against demonstrators in Gaza or threatens to demolish West Bank villages, the EU and individual member states, including the Netherlands, come out with sometimes severe criticism. Serious measures are, however, never taken. This stands in stark contrast to Europe's actions against Russia in the wake of the annexation of the Crimea, when a range of sanctions was imposed.
It's true that EU policy is that the illegal settlements must not profit from the trade advantages contained within the Association Agreement. The Netherlands also deploys a policy of discouragement, under which companies are advised against establishing economic ties inside the settlements. Formally, agreements with Israel do not apply to the occupied territories. 
Nevertheless, illegal settlements do profit from relations with the EU and in one way or another European countries are contributing to maintaining the occupation. This was confirmed during a conversation with Riya Hassan of Israeli NGO Who Profits, which looks into which companies make money from the occupation. Who Profits supports the policy of differentiation between Israel proper and the occupied territories, but draws attention to its limitations. Because no distinction is made between the Israeli economy and that of the settlements, differentiation is in practice impossible.
A major way in which the illegal settlements profit from relations with the EU is through the export of fruit and vegetables to Europe, Israel's most important trade partner. Because rules of origin are evaded, these products are sold with misleading labels which read 'Produce of Israel'. World Bank statistics revealed some years ago that the EU imports more from the illegal settlements than it does from the rest of Palestine. We have put questions to the government on this matter.
The military industry's participation in EU research programmes along with the arms trade between European countries and Israel are further examples of how Europe contributes to the occupation's profitability. The Israeli army is, after all, instrumental in maintaining the occupation and in the extension of the settlements. So the sale  of battle suits to the Dutch armed forces by Israeli firm Elbut is very relevant, and we have also put questions to the government on this. 
Relations between the EU and the Palestinian territories are much less intensive, though nevertheless important. Effective work has been done in this context, primarily in Bethlehem in the Tent of Nations project and the villages of Khan al Ahmar and Susiya - all three of which have been threatened with demolition – financing projects such as the placing of solar panels and water-saving installations. In some cases this is a matter of survival for these beleaguered Palestinian communities. It's great that EU member states sometimes rebuild such projects after they have been bulldozed by Israel, a frequent event, without any form of compensation.
There is also European and Dutch support for human rights organisations in both Palestine and Israel. As a result of the growing resistance to their work and the polarised political climate, foreign support and finance are very influential, enabling this important work to continue.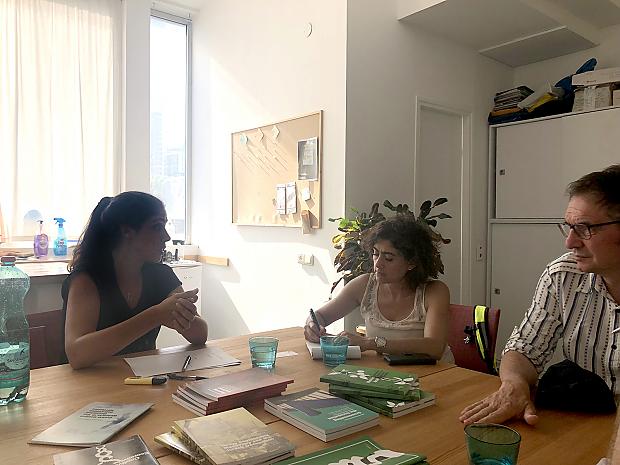 6. Conclusions
The first and most important conclusion following our week in Palestine/Israel is that the current situation of permanent occupation and extension of the illegal settlements cannot endure and could lead in the short term to the definitive destruction of any potentially viable Palestinian state and with it the two-state solution. To make Palestinian self-determination possible, action is urgently needed.
It is critical to step up the pressure on Israel in order to persuade the country to change its ways. It's high time that the UN Security Council resolutions were honoured and an end put to the occupation. It's clear that the intensification of relations with Israel which has characterised recent decades is not helping in this. 
There have been some interesting developments in Ireland, where the Senate has agreed to a ban on the import of products from the occupied territories. During our visit to Palestine and Israel that many if those with whom we spoke draw hope from this. The view that a price must be put on the occupation and the settlement policy is widely held. The Irish example ought to be followed. Profiting from illegal practices must be combated.
Cooperation with Israel in the area of defence and the arms trade can no longer be tolerated while the Israeli army's primary tasks are to maintain the occupation and facilitate the extension of the settlements. War crimes are being committed with European weapons, and it's time we imposed an arms embargo. 
Pressure must also be exerted in order to bring an end to the illegal blockade of Gaza. Egypt and the authorities in Gaza and the West Bank should be approached about this. That Israel can kill more than 120 demonstrators with complete impunity is unacceptable. 
Because Palestinian self-determination is moving ever further out of sight, it's important that European countries continue with aid to villages threatened with demolition and communities threatened with deportation, and where possible increase it. This could offer a direct contribution to maintaining the possibility of a two-state solution. Recognition of Palestinian statehood is also important in this regard.
Maintaining financial support to human rights organisations in a region where there is such a lack of respect for them, not least when it comes to Palestinian children, is of paramount importance. Without such aid it's probable that human rights abuses would increase still further. Political support, such as taking a clear stand when activists are threatened, would be a welcome complement to this.
Peace talks under American leadership are a destructive process. If a peace process is to be effective, it's essential that Trump does not hold the reins. Other players must take a lead, including countries in the region and the EU. Unity among a Palestinian leadership seriously divided for decades is essential for this. Peace negotiations cannot proceed without at least a complete halt being called to the extension of the settlements.
You are here