CETA's first anniversary deserves a 'No'
24 September 2018
CETA's first anniversary deserves a 'No'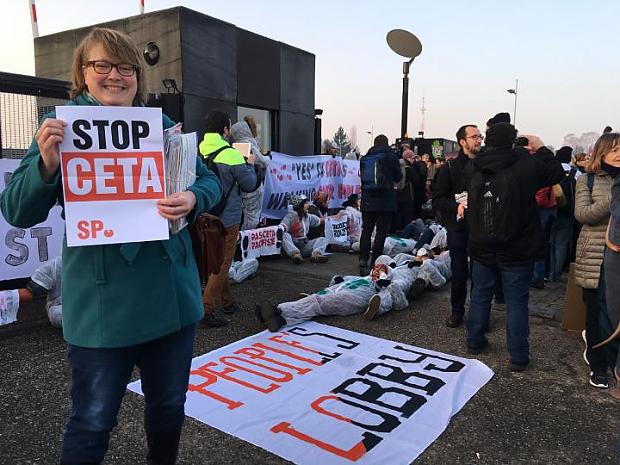 The Netherlands should not ratify CETA, the trade treaty with Canada, says SP Euro-MP Anne-Marie Mineur, a view supported by a study into the treaty's economic consequences by the French Veblen Institute. CETA will lead to the import of products which do not satisfy European regulations, and puts the right to set these regulations under pressure. Without unanimous support from the member states, the treaty will fall.  
CETA celebrates its first anniversary today, but that's no reason to party. Mineur's concerns about the treaty are confirmed in the Veblen Institute's study (in French only). "The treaty with Canada will lead to the import of genetically manipulated organisms (GMOs) and crops raised with pesticides banned in the EU," she says. "The treaty also puts the right to regulate in jeopardy. It's true that the arbitration section has not yet come into force, but that won't stop Canadian corporations from threatening ISDS actions via another trade treaty. The aim of this treaty was from the very start to put pressure on democratic control of international trade, and we can now see that's already happening. The treaty contributes nothing to sustainable trade or to the advantage of both parties. We need to stop it."
The Dutch Parliament is one of the parliaments which must ratify the treaty, but it is still waiting for the judgment of the European Court of Justice (ECJ) on the question of the compatibility of the section on arbitration with European law. A previous ruling from the ECJ on the Achmea case casts in doubt whether the treaty can be ratified.
You are here