Left cooperation against modernisation of Netherlands-based nuclear bomb
8 February 2018
Left cooperation against modernisation of Netherlands-based nuclear bomb
SP Member of Parliament Sadet Karabulut, together with fellow MPs from the Green Left and the PvdA (Labour Party), has put a series of parliamentary questions to the government on American plans to modernise the B-61 nuclear bomb. The B-61 is a US nuclear weapon housed in Volkel and can be deployed using the F-16 warplane.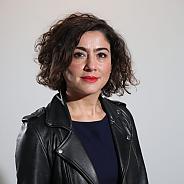 Last weekend United States Defence Secretary Jim Mattis issued a new nuclear weapons strategy document, the Nuclear Posture Review. This revealed that the US Air Force is planning to modernise the Volkel-based B-51 by 2020. Plans also include the F-16 being replaced in the task of deploying nuclear weapons by the F-35, popularly known as the JSF, which will take over from 2020. "If that happens," says Karabulut, "the government will be ignoring an SP motion which gained majority support in Parliament." The motion stated that Parliament does not support using the F-35 for nuclear attacks.
It's an open secret that there are nuclear weapons in the Netherlands, but specialists estimate that twenty B-61-11 bombs are stored at Volkel. Dutch pilots are trained to use them in the event of a nuclear war. In recent years technical improvements to this free fall nuclear bomb have been developed. The new version, the B-61-12, is equipped with a tailpiece for better steering.
The new American plans go a great deal further than the modernisation of the nuclear bombs in the Netherlands, Belgium, Germany, Italy and Turkey. The trend is towards smaller bombs as well as towards putting more nuclear weapons in Europe. "In this the situation is starting to look like the Cold War period when, at the end of the 1970s, there were major plans for nuclear bombs in Europe. But we certainly don't want a second Cold War."
The SP, Green Left and Labour Party are not looking simply to prevent the modernisation of the nuclear tasks of the F-16, but to seize the opportunity to send the Volkel bombs back to the United States once and for all. "I'm delighted that the three parties are able to cooperate on this important point of foreign policy," says Karabulut. "The Netherlands has to resist these plans. If the B-61-11 bombs go over to America for a makeover, then there's no need for them to come back, or to come back as B-61-12s. That decision would provide a stimulus to disarmament in Europe and to advancing the security of the public throughout Europe – from the Hook of Holland to well beyond the Urals."
You are here