SP's Sadet Karabulut visits troubled Rif region of Morocco
31 July 2017
SP's Sadet Karabulut visits troubled Rif region of Morocco
Last week SP Member of Parliament Sadet Karabulut and National Secretary Hans van Heijningen paid a three-day working visit to Morocco. "People have been taking to the streets for almost a year now in Morocco," explained Karabulut. "They want a fairer distribution of wealth in the country and are demanding jobs, health care, education and an end to corruption and impunity. Young and old and, for the first time, thousands of women are getting out on to the streets and calling for a better future. Many Dutch Moroccans feel involved in this protest movement and have organised solidarity actions in the Netherlands in recent months. The SP is in complete solidarity with this people's movement."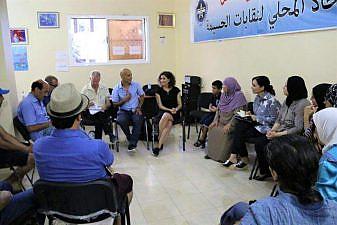 The Hirak movement, which began in Rif, concerns itself primarily with basic human rights. "We wanted people from this movement, people from the authorities, and representatives of human rights organisations to speak for themselves so that we could get a better image of the situation, because the Netherlands could also play a role here," says Karabulut. Together with Van Heijningen, she visited human rights groups and MPs in Rabat, the country's second biggest city and its capital. In Al Hoceima on the Mediterranean coast, the two spoke with the families of political prisoners, with trade unionists and local human rights organisations. "We can't change the situation in Morocco from here in the Netherlands," admits Van Heijningen, "the people there are doing that themselves by creating a movement. But we can certainly support them, tell their story further afield and contribute to international solidarity."
The protest burst into life last October following the death of Mohsin Fikri, a young fishmonger, in Al Hoceima. Fikri had bought fish at the docks and was about to sell them on the street when he was stopped by the police, refusing to pay a bribe. At this the police threw the man's fish into a refuse collection vehicle in order to destroy them. In despair, Fikri then threw himself into the vehicle to try to rescue the fish which were his only livelihood. The vehicle's machinery ground him into pieces, provoking an eruption of public protest.
Very quickly another local man, Nasser Zafzafi, became the face of the movement, putting into words the broadly shared frustration, the feeling of neglect and humiliation suffered at the hands of the authorities. The Hirak movement's demands are straightforward: put a stop to the region's militarisation, provide work so that young people can build their future, provide a university so that they can study, and put an end to corruption in the docks and in land ownership. Nasser Zafzafi called for a mass demonstration to be held on July 20th but at the end of May he was arrested because he allegedly spoke out in the Mosque against an Imam who had condemned Hirak, arguing that the movement would cause discord. During the month after he was arrested dozens more peaceful Hirak activists were seized, including university professors, journalists and trade unionists.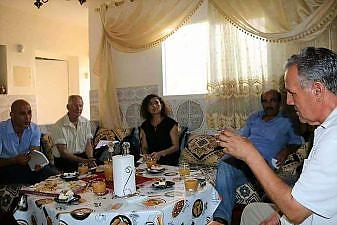 Nasser Zafzafi's father, Ahmed, welcomed the two SP representatives at his home in Al Hoceima. He gave an account of the Hirak movement from a historical perspective. "We aren't doing this for the first time. I'm ashamed to speak about our history. We've fought, suffered and made sacrifices in the interests of our country. But also in the past our uprisings for justice have been met many times with a heavy hand. That happened as long ago as the 1920s, then again in 1956 under King Mohammed V and again in 1984 when the army under King Hassan II bloodily suppressed the student rebellion.
"I've never seen anything good come from any of this," Zafzafi continued. "We are a peaceful people. Every time we thought, 'let's forget it, we have to go on but we won't forgive them'. But after the death of the fishmonger Fikri something here just snapped. We have no longer any belief in politicians. The people are Hirak, Hirak is the people. They humiliate us, call us worthless bums or separatists. But nothing could be further from the truth. Rif is Morocco and Morocco is Rif. After the 20th February protests in 2011,King Mohammed VI made an important promise. The constitution would be changed to meet the aspirations of those who strove for freedom, dignity and justice. Yet now Hirak, a movement of poor young people with simple demands, finds itself confronted with violence and oppression. The authorities must understand that they no longer have any support. They can only resolve this by releasing the political prisoners and sitting around a table to talk to our children."
Women in Rif have taken an exceptional position within Hirak. Women who have never been outside are now taking a lead in the protests, standing face to face with the forces of order. The Hirak movement has brought into being a wave of emancipation. Women are having their say, something unknown in this region. "Our husbands, friends and colleagues are being dragged from their beds and their schools for no reason, abducted and put in prison," says one of these women, Ouahda El Ajjouri. "They're political prisoners and must be immediately released. Those who are violating our human rights must be tracked down and prosecuted." Mothers and wives of political prisoners told us about cases of serious abuse of their loved ones, of how they are being held 600 kms away in the 'Oukacha' - a prison in Casablanca to which, if they want to speak to them for the very short period allowed, they must travel weekly the 1,200 kms there and back. One young woman, Sekkaki Houda, said "we're not throwing stones, all we want is justice, a good life, a future for our children, a hospital and a university. Why are we being collectively punished for this? How am I supposed to feed my kids? These people ought to die of shame. But they can't stop us."
Human rights organisations also told us engrossing stories. Hirak enjoys broad support across Moroccan society, not least because of the appalling poverty afflicting many regions, as well as the corruption and impunity. Although everyone concedes that after the 'years of lead' under Hassan II, which saw political oppositions tortured in secret prisons, there has been some progress. Under the new king and following the Arab Spring, important steps forward were taken – at least on paper – but in practice too little was being done. Time after time the SP represntatives heard the term 'façade politics', while amongst the inhabitants of Rif the feeling prevails that the EU countries are above all interested in the stability of the country and the region and that human rights violations are taken for granted. Yet taking a stand would be better than looking the other way, because if there is one thing to which the Moroccan government is sensitive it's pressure from abroad.
"The struggle being conducted in Morocco is really important," says Karabulut. "Hirak is a broad movement with completely humane demands. People in Rif are courageous, and they're engaged in a peaceful struggle against the abuse of power, against inequality and violations of human rights. I have nothing but respect for that, and it was a privilege to spend a few days here. I'm aghast by the display of military power and by the serious human rights abuses. Our government in the Netherlands must take a stand; it's a good friend of Morocco and cooperates with them. Good friends shouldn't be afraid to speak the truth to each other. We need also to take a long look at who profits from the EU subsidies to the region."
The SP representatives saw how the Moroccan authorities have attacked the most vulnerable people who have stood up for their rights, putting breadwinners behind bars and preventing them from seeking help from abroad. "We can't turn our backs on this," insists Hans van Heijningen. "Socialists are internationalists. We have enormous respect for all those people who stand up for their rights and who pay a high price as a result. The least that we can do is contribute what little we can to their struggle."
You are here