Pension off Belgium's junk nuclear reactors By Sandra Beckerman and Ron Meyer
17 July 2017
Pension off Belgium's junk nuclear reactors By Sandra Beckerman and Ron Meyer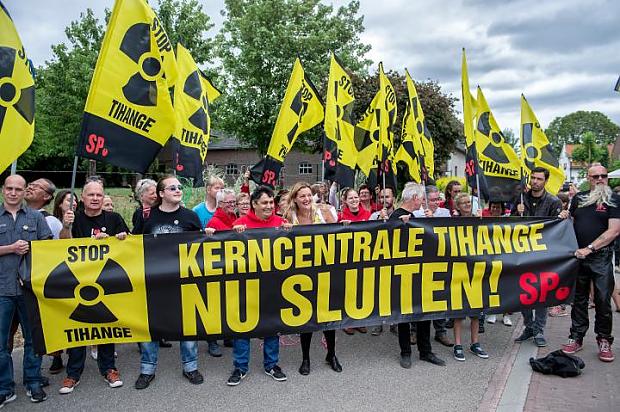 Parliament had invited Belgian nuclear regulator FANC to come to The Hague to talk the accumulation of problems at the nuclear power stations at Doel and Tihange. This invitation was ignored, however, something of an insult to the Dutch Parliament. Not only the Netherlands but also Germany and Luxembourg are anxious to see neighbouring Belgium close these reactors because a disaster could have extremely serious consequences for people living in the region. Belgium refuses to listen, so it's time to step up the pressure. 
The nuclear power stations present an enormous risk. When they were built it was expected that they would be closed between 2005 and 2015, yet they continue to operate.  Although this isn't in fact always the case, as time after time incidents occur which force them, either in part or in full, to be shut down. In June it was revealed that seventy new cracks had been detected in the Tihange reactor. Numerous such cracks had previously been discovered in both Tihange and Doel, and these aren't the only problem. In addition, there has been a succession of technical glitches, escaping steam which seriously injured a worker, an exploding transformer, fires,  welded seals which leak, burst dynamos, possible sabotage and an oil leak which threatened to cause overheating. 
If a disaster were to take place hundreds of thousands of people would be endangered. A large area would become uninhabitable for some two hundred years. Safe and sustainable energy could be made available as an alternative, so why are these power stations still open? Because money can be made from them. The owner, Engie, makes huge profits, and this comes before the safety of the region's inhabitants. 
Belgium is turning a deaf ear to calls for closure. A protest by 50,000 people In June and pressure from the Dutch, Luxemburgish and German parliaments have not yet helped to change this. This may be because we have not yet used one of our most powerful weapons: the power stations continue to operate because there's money to be made from them, including by Dutch pension funds which have together invested a quarter of a billion euros in the firm which owns them, according to research by a national television news programme. The largest of the pension funds, ABP, has investments of €116 million, while the other three have respectively 63 million, 34 million and 14 million. This pension money gives us a means of exerting heavy pressure to have these junk reactors closed. 
This need not have any detrimental effect on Dutch people who are either receiving a pension of saving up for their retirement. In June, Sweden's biggest pension fund, AP7, decided to sell all of its shares in ExxonMobil, a decision based on ethical environmental considerations as well as financial factors. According to the fund's CEO, in the long term it is simply more intelligent to invest in clean, safe energy instead of fossil and nuclear energy. 
On Monday we will begin an action programme aimed at having the power stations closed. We will begin with ABP, which covers the pension needs of government officials. When the Dutch state shares our opinion that the nuclear power stations should be closed, it makes no sense that its employees are contributing financially to keeping them open. In the wake of the Fukushima disaster,  ABP ceased its investments in the nuclear power station's owner,  Tepco. It seems to us completely logical that they would do the same in the case of power stations much closer to home.  In the immediate future more actions by people using these pension funds will follow, aimed at pensioning off the Belgian junk reactors. 
You are here