Time we made truck driving attractive again
23 February 2017
Time we made truck driving attractive again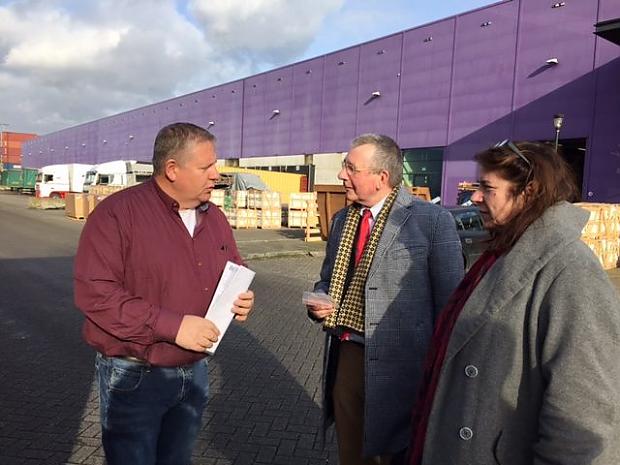 On 21st February SP Euro-MP Dennis de Jong and Ellen Verhoog, a member of the SP's European Parliament staff, went on a working visit to lorry drivers to find out why there were so many vacancies in the trade and so little interest in it from young Dutch people.
During the first part of the visit De Jong and Verhoog spoke with Hans Holman, an independent driver who takes Rotterdam harbour containers to the European Container Terminal (ECT) 30 kms upstream at Estron's distribution centre.  In the afternoon they visited HaCas Transport, a small company which provides international logistic services, mostly in relation to transport to France.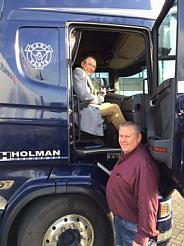 Both confirmed that the shortage of truck drivers on the labour market was increasing, while in international transport the cohort of drivers was ageing. Many young people have no interest in working as an international truck driver, despite sustained attempts by HaCas and others to recruit. The turnout from young people has been minimal, they say.
Both firms say that "the world has changed and young people no longer want to spend such long periods away from home. Often people have a partner who is also working and having a father or mother regularly away isn't practical. Who would care for the children? On the other hand you hear that the trade is less attractive, because you have less freedom than you did in the past. The strict rules to which the drivers must adhere in terms of driving time and rest periods limit drivers' freedom to divide up their day."
Both moreover state that working conditions for drivers have deteriorated greatly over the years. As a result of the shortened  hours and the fact that labour agreements in the sector have become much less favourable, more money can be earned in other trades. "Of course driving for a living has become less adventurous, because the really long journeys are no longer undertaken by Dutch drivers, and with the introduction of the tachograph there's a lot more control of drivers.," says De Jong. "Nevertheless I remain convinced that if working conditions were substantially improved, sufficient young people could still be found to fill these vacancies, which are estimated at 2,600."
Part of the problem is that there are too many alternatives. Transport firms resort to using eastern European contractors, often independent drivers, who work under quite different conditions, involving post box companies in low-wage countries from where eastern European drivers are 'posted' to Dutch transport firms. This leads to ridiculous situations, such as packed out parking areas and drivers who have to live in their cabs for months on end.  
"It's good to hear that the transport firms themselves want improved monitoring and an end to  these dishonest constructions," says Dennis de Jong. "In the European Parliament we will keep making efforts to improve EU legislation to make controls more effective.   But a great deal more could also be done at national level. All of the parties involved find it ridiculous that only twenty-eight inspectors are available for monitoring road freight transport. The controls that this handful of people can carry out are no more than a drop in the ocean. If you really want to make the image of driving a truck to be improved, it can only be done if abuses are tackled."
You are here