SP launches 'People's Resolution' on controversial CETA
24 January 2017
SP launches 'People's Resolution' on controversial CETA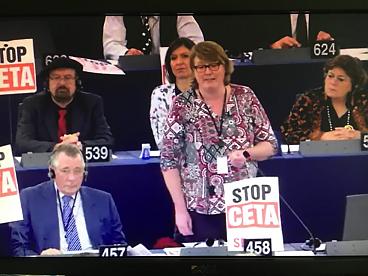 Following the disappointing vote by at the European Parliament's Committee on International Trade, the SP is launching a 'People's Resolution' on the controversial trade treaty with Canada. The negotiation process has not been transparent, the proposal is not ready for a decision to be taken, and the treaty sacrifices important achievements in exchange for uncertain promises. The SP wants to offer the peoples of Europe time and space to respond.
From the word go, SP Euro-MP Anne-Marie Mineur has called attention to the insignificant role of the public in this process. "This treaty follows nothing but the agenda of the European and Canadian multinationals and has listened primarily to them," she says. "They want to get rid of 'burdensome' democratic processes, which in reality exist to guarantee the safety of our food and protect our public health. They have been fought for by generations of trade unionists, consumer groups and environmentalists. Not only Canadian but also many American corporations will be able to make use of this unwanted arbitration system." Mineur is calling on everyone to contribute to the debate.
In mid-February the European Parliament will vote on the treaty. A request for delay was rejected because Canadian Prime Minister Justin Trudeau cannot attend March's plenary meeting.
You are here