European Parliament Employment and Social Affairs Committee backs resistance to CETA
11 December 2016
European Parliament Employment and Social Affairs Committee backs resistance to CETA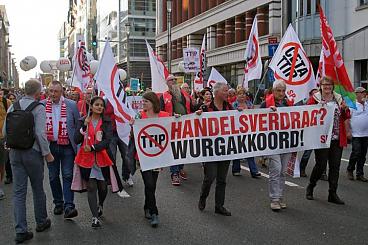 CETA will cost the European Union 204,000 jobs and create sectoral distortions which will lead to long-term unemployment, according to a ruling by which the European Parliament Employment and Social Affairs Committee rejected the Comprehensive Economic and Trade Agreement with Canada. The Committee voted to endorse an extremely critical report from    Bulgarian social democrat Georgi Pirinski.
SP Euro-MP Anne-Marie Mineur says that she is delighted by the Committee's decision. "This ruling is exactly consistent with the arguments that we have been presenting for years," she notes. "Together with the trade unions I have constantly called attention to these arguments, and I'm pleased by the Committee's recognition of them. The Committee  has minutely analysed the text to see what is wrong with this treaty, and presented an opinion which the Trade Committee will have difficulty getting around."
In addition to unemployment, the report warns of growing inequality and rising social tensions. CETA does nothing, either, for small- or medium-sized firms, but puts the interest of these important employers in the balance. The Committee also draws attention to the advantages the treaty would give to foreign investors, putting them before those of working men and women. Finally the Committee notes that the treaty would come at the expense of trade with developing countries and calls into doubt the compatibility of CETA's arbitration system – known as ICS - with existing EU compensation procedures . 
(Picture: Demonstration against TTIP and CETA, Brussels, 20th September 2016)
You are here