Kox: No-vote offers hope for better cooperation
21 March 2016
Kox: No-vote offers hope for better cooperation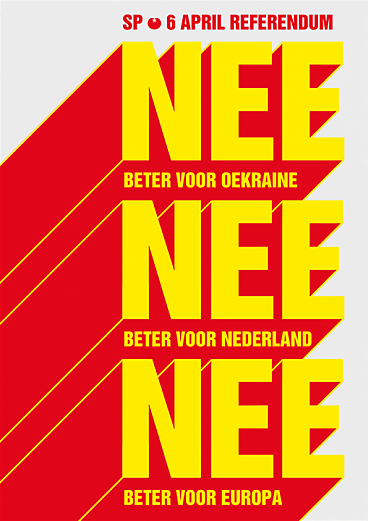 "If the Netherlands says no on 6th April to the Association Agreement with Ukraine, there's a good chance that there'll be renewed negotiations between Ukraine, the European Union and Russia. Then the mistakes that have been made can perhaps be righted and better agreements made. Better for Ukraine, better for the Netherlands and better for relations within Europe. We mustn't let this chance go begging!" So says Senator Tiny Kox, the SP's eastern Europe specialist.
SP Senator Tiny Kox with German MP Andrej Hunko
Kox was speaking in Amsterdam, where on Sunday he participated in a gathering of experts at De Balie conference centre organised by the 'War is No Solution' Committee established by Kees van der Pijl, Professor Emeritus in International Relations. Kox's call won the support of two international experts present, Richard Sakwa, Professor of Russian and European politics at the University of Kent in England, and Professor Nicolai Petro from the US University of Rhode Island. Support came also from the German Die Linke (The Left). Andrej Hunko, a Member of the Bundestag, the German Federal Parliament, recounted how last week's party executive decided to give its full support to the SP's 'No' campaign, a campaign also supported by a number of progressive organisations within the Netherlands. Our collective view is that a 'no' vote will be better for the people of Ukraine, better for the people of the Netherlands and better for everyone in Europe who wants to see cooperation contributing once more to peace, security and progress for all.
Earlier in the day Professor Sakwa had appeared in a nationally televised debate with Lodewijk Asscher, Labour Party deputy prime minister in the coalition government in which his party is junior partner to the neoliberal VVD. While Asscher called on everyone to vote yes on 6th April, Sakwa argued that a no vote would be better for a number of reasons, including the geopolitical consequences attendant upon the most far-reaching Association Agreement in the European Union's history. "The Dutch government and the European Union act as if Ukraine lies in the Atlantic Ocean and not between Russia and the EU," he said. According to Professor Sakwa, an expert on Ukraine, Russia and relations between them, Ukraine must seize the opportunity for effective cooperation with both neighbours, the EU and Russia, which could also help to reduce the tensions between the two economic and political great powers.
Professor Petro provided a detailed explanation to the public in Amsterdam of the necessity for Ukraine, as a border country between the EU and Russia, to be able to do business with both blocs. Recently he did the same in a brilliant article in The Guardian.
You are here