'EU negotiations with UK offer chance for an alternative Europe'
3 February 2016
'EU negotiations with UK offer chance for an alternative Europe'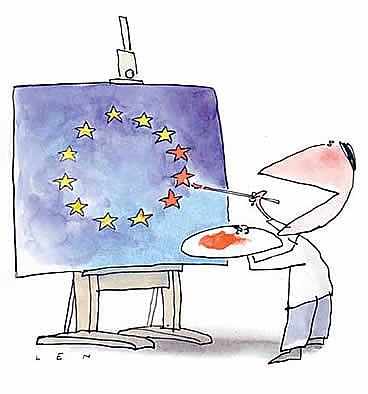 On Tuesday European Council president Donald Tusk and British prime minister David Cameron presented their common proposals for reform of the EU. If the European Council agrees, this is the package which Cameron will put before the people of the United Kingdom in a referendum on European Union membership. Following the recent referendum in which the Danes voted to retain their national control in the area of justice, and the coming Dutch referendum on the EU-Ukraine Association Agreement, scheduled for 6th April in the Netherlands, the chances are great that the British will hold their own referendum on 'Brexit' in the week of 23rd June. The SP sees the negotiations between Brussels and London as a step in the right direction, yet much remains to be done.
The proposals also go into the role of national parliaments. Commenting on this aspect, Harry van Bommel, himself a national MP for the SP, says: "The plans would make it possible for national parliaments to give the red card to a European legislative proposal, if they have a clear majority. In that case the Council of Ministers would be obliged to halt negotiations on the measure in question. The original proposal would not be definitively scrapped, however. The European Parliament could proceed with the negotiations and the Commission could amend it cosmetically, after which the Council could return to it. The SP wants to go further than this. For us a red card should mean that the Commission must withdraw the proposal completely."
In the socio-economic area the SP is also critical, as SP Euro-MP Dennis de Jong explains: "The proposals won't put an end to Brussels' interference in our socio-economic policies. On the contrary, Tusk is holding on to the idea of what he calls a deepening of the eurozone's Economic and Monetary Union. It's certainly good to see that it's recognised in the proposals that there can be exceptional circumstances under which member states can suspend the free movement of workers. And it makes sense that child benefit paid for children who stay in their homeland should be brought into line with the cost and standard of living there. For the rest we aren't, however, in favour of discriminating when it comes to the social rights of workers from other member states and those of a country's own citizens. In relation to this, then, the heads of government need to look again at the concessions being made to Britain, because these should be more carefully formulated than is currently the case."
The SP would prefer the United Kingdom to remain in the EU, but approves of the British people being given the chance to express their own views in a referendum. The debate on Brexit, moreover, offers a chance for the left in Europe to significantly adjust the current neoliberal course of the EU, for example via a treaty revision.
You are here