Ploumen forces CETA treaty with Canada on to agenda of EU Council of Ministers
28 January 2016
Ploumen forces CETA treaty with Canada on to agenda of EU Council of Ministers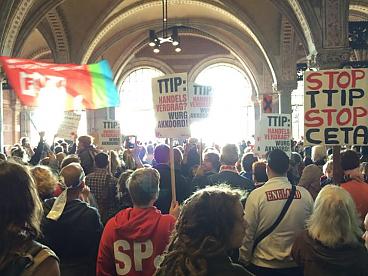 In her role as Chair of the EU Council of Trade Ministers, Dutch minister Lilianne Ploumen – a member of the Labour Party (PvdA) - has put the signing and provisional coming into force of the controversial Comprehensive Economic and Trade Agreement with Canada (CETA) on the agenda for the International Trade Council meeting scheduled for May 13th. This was revealed by the still unpublished agenda which the SP has managed to get hold of. In doing this, Ploumen is bypassing the European Court of Justice, which still has to give its advice on the question as to whether such treaties are an exclusive EU competence or whether the member states also have the right to take decisions independently. The SP calls on Ploumen to make signing the treaty conditional on the agreement of the member states' national parliaments.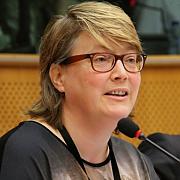 SP Euro-MP Anne-Marie Mineur does not understand why Ploumen is taking such a step. 'This treaty, just like the TTIP, will have far-reaching consequences for our democracy,' she says, 'for example because of the arbitration system, Investor-State Dispute Settlement (ISDS), that gives special privileges to foreign investors. Precisely because it's so controversial, shouldn't she be giving the national parliaments a chance to discuss it? If the EU Council of Ministers agrees to this extremely controversial treaty, it can come provisionally into force. This situation could go on for years. The possible eventual rejection of the treaty would then be a costly move, because all sorts of processes would have to be put into reverse. Provisional entry into force would thus put heavy pressure on democratic decision-making.'
Mineur explains: 'Taking both the European Parliament and the national parliaments out of the game contradicts Ploumen's own statements in our own national parliament as well as the European Parliament's International Trade Committee. Yet European Council president Donald Tusk, in answer to a written question that I put to him, also stated that the member states must have their say.' Mineur is calling on Ploumen to quickly make clear that she will allow the national parliaments to discuss the treaty, and to notify them of this. She also wants the minister to make the coming into force of the treaty dependent on the agreement of the national parliaments.
You are here