SP leader Emile Roemer concludes XXI SP Congress: 'In unity we work for a better world'
28 November 2015
SP leader Emile Roemer concludes XXI SP Congress: 'In unity we work for a better world'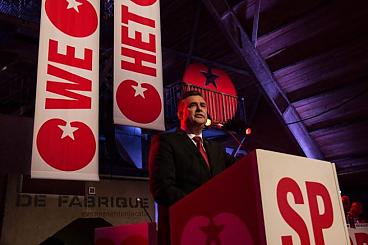 'Today we have concluded a long and extensive discussion within the party. From this will come tasks for the whole of the SP, tasks to make the party even stronger, even broader and even bigger. ' So said Emile Roemer at the close of the SP's 21st Congress.
Roemer spoke at length in his speech on the turmoil in the Middle East, the influx of refugees resulting from it, and the menace of terror in Europe. 'More and more countries are becoming involved in the conflict in Syria, ever more groups are engaging in battle with each other, and it becomes ever more clear that a political solution remains far away, ' he said. 'No end to the conflict can be brought about in Syria just by dropping more bombs. For fifteen years it 's been shown that the aggressive intervention policy has been counterproductive. All it's done is open the door to extremism and terror.'
Courage
Roemer insisted that we have the courage to continue to confront the fear of terrorism. ' "We must build dikes of courage to hold back the floods of fear." Those are the words of Martin Luther King, one of my greatest sources of inspiration,' he said. 'Right now, people are fearful. But what is courage? Courage is more than confronting your own fears, courage is about defeating fear; about resisting fear and winning out over uncertainty. Courage is about that daughter who, despite her own latent fear of terror, got on to the train to go and see her mother. But courage is also the teacher who walked out on a group of disrespectful youths when they raucously interrupted a minute's silence for the victims in Paris. Courage is something we must always seek, certainly that's true of now. Because without those dykes the storm floods will overwhelm us. That's why we have to keep searching, every one of us, and each in his or her own fashion.'
A question of time
Roemer went on to insist that the SP must not lack confidence in the party's analysis, the alternatives the party offers or the activism which characterises its work.
'Every day we hear of people who can't get the health care they need; old people kept in hospital longer than is necessary because they aren't fit enough to go home and for more and more people there's no place anywhere. In recent years we have put forward masses of proposals aimed at improving care for old people, for people who are ill and those with disabilities. The filing cabinets in our offices in the parliament are bursting at the seams…. All these excellent plans lack is an SP minister to implement them.' But that, Roemer noted, 'is only a matter of time!'
In his speech Roemer made it clear that for him appalling poverty affecting 400,000 children had to be addressed. 'A millionaire tax and a fair tax on capital would provide enough to solve this…. at one blow. Now once again we see taxation plans that will further increase income differentials, that are most advantageous to those on the highest incomes and give those on the lowest incomes, including many old people, nothing but the run-around. We'd chuck any such tax plan straight into the bin.'
The Congress, held in Utrecht and attended by around a thousand people, including delegates from all of the SP branches, also debated the contents of a resolution aimed at taking the party forward and responding to current developments. Strongly worded sections expressed solidarity with the refugees and a determination to resist attacks on the welfare state. The drive to war must be fought and a peaceful solution strived for in Syria. The resolution also set the party's organisational lines for the coming years, modifying rules for establishing new branches and setting out plans for building the youth organisation Rood (Red).
New party chair elected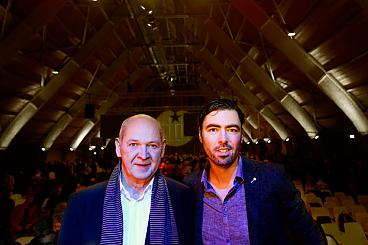 A new party Chair was elected to replace veteran Chair and ex-leader Jan Marijnissen, who is standing down. Ron Meyer won the vote after a close-fought, amicable contest with Member of Parliament Sharon Gesthuizen.
Emile Roemer and many others paid tribute to Marijnissen, who, as Roemer a close-fought, amicable contest with Member of Parliament Sharon Gesthuizen, pointed out, had with other party leaders built the party from a 'brave but somewhat directionless federation of local branches into a militant people's party with hundreds of thousands of voters, tens of thousands of members, thousands of activists, and hundreds of elected representatives. '
You are here