The new SP agenda for development cooperation
1 June 2015
The new SP agenda for development cooperation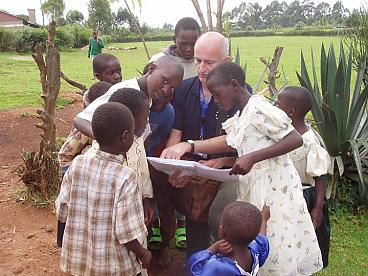 The SP's new agenda for development cooperation will appear shortly. Five subjects will occupy centre-stage in this statement: emergencies, health care, youth, money and 'green' - the environment. SP Member of Parliament Eric Smaling and SP official Ben van Gils lay out the new agenda step by step.
It's 2015. The Second World War ended seventy years ago. We no longer see Germany as the enemy and there's no longer any reason to extend special compassion to Israel. The time to view Africa and poverty as synonymous is past. Poverty and inequality can be found, moreover, throughout the world, including in the Netherlands. The time is ripe to switch the emphasis from 'we are rich and they are poor' to the sharing of values, an appreciation of each other's history, each other's strong points and the common improvement of the health and wellbeing of humanity, animals and the planet as a whole. These problems concern not only poverty and inequality but certainly also – and in recent times wholly – the prevention of crisis situations. Instead of continuing to fritter money away on business-orientated funding, strategic partnerships (on every occasion with different partner countries), spearhead policies, fashionable hobby-horses which look good, all sorts of ad hoc funds and endless discussion of the percentage spent on Official Development Aid (ODA) - which result in little or nothing, we are taking a step towards dynamic ties of friendship. Equality must be central to this.
It's time for a new bond between Africa and the Netherlands, a bond which must be based on respect, but also on frankness. We need to leave behind the time when we always knew better in favour of fraternity based on mutual interest and an attitude of learning from each other. Of course the subject of human rights is one which is central for the SP, but pointing the finger should be given up in favour of a robust dialogue which can have two sides. This could also lead to the – albeit temporary – chilling of warm bonds. For megalomaniac trade treaties and taxation agreements where only the happy few gain, there is no place.
The new development agenda consists of five easy-to-follow subjects which everyone can keep in mind and which will hopefully be looked at positively by the Dutch taxpayer: emergencies, health care, youth, money and 'green' - the environment. Spending development money follows a three-step programme. Money for emergencies and extremes of poverty must be spent when and where it is needed. The other subjects are relevant for the African continent but should not be restricted to arbitrarily selected partner countries. The aim is to direct a substantial part of the resources towards developing a long-term relationship with a maximum of three countries which continue to lag far behind. The three "Ebola countries" – Liberia, Guinea and Sierra Leone – would, for example, be suitable choices. Not only has the disease itself created havoc in these countries, but also the whole of public life has been rocked and little is left of the health care system. In total we suggest that a sum of €5 billion per year – around 0.75% of the Netherlands' GDP – should be divided between the five subject headings. The division will not be written in stone, however, and some of it may be spent in the Netherlands, for example on bursaries for students.
Roughly speaking, resources for development policy are divided into three categories: multilateral (among several countries), bilateral (between two countries) and direct aid aimed at a concrete target. The multilateral channel concerns for example the best-functioning sections of the United Nations and the African Development Bank (ADB). Bilateral resources would be allocated on the basis of reports from Dutch embassies, which in any event keep a close eye on the possibilities for business, for NGOs and for educational and research institutions. A close-knit network of embassies is therefore essential and will normally pay for itself. A significant share will be spent on and in three countries with which we have entered into a special relationship. Finally, the Ministry of Foreign Affairs will work more with the African diaspora, with people whose roots lie in Africa but who live in the Netherlands.
Briefly, the five subjects can be fleshed out as follows:
Emergencies
Emergency relief has become structural, unfortunately, in that each year many urgent situations arise which demand rapid intervention. Sometimes this works, sometimes it doesn't. That means that more is needed than just sending money, blankets and other emergency relief supplies following an earthquake or an exodus resulting from armed conflict. 'Emergency' takes on three dimensions: prevention; cure; and where situations occur that we haven't been able to prevent and can 'cure' in only a limited sense, bring some decency to.
Faster and more effective humanitarian aid in an emergency situation.
Reduce risks: this can be achieved by averting a danger (for example by providing a river with more terrain on to which excess water can be discharged), or by ameliorating vulnerability (constructing dykes, building mounds, or as far as possible evacuating people from the most vulnerable areas).
Offer people a decent existence. People often have to remain for a long time in refugee camps, sometimes for decades. Instead of merely waiting on better times, more must be done to contribute to a meaningful existence for the inhabitants. This is an important aspect of the need to create more reception facilities in the region itself.
Health Care
Health care is an essential element of human wellbeing. In many African countries it continues to be poorly organised, especially when it comes, for example, to people with disabilities. A health service such as our own need not be emulated, but we want to see everyone having access to a basic level of care.
We should invest in the health care system as a whole: the basis of a good service consists of good medical infrastructure, well-trained medical personnel, and access to medical care for all, including those who live in remote areas. The relationship between good health and good food, clean drinking water and hygiene should also be given special attention.
Young
Young people must breathe new life into the planet. Thanks to the internet and social media young people know far more about each other and the places where each other live than was the case in the past. Africa has a great many young people. Too many of them leave school or higher study with no prospect of employment. That's one of the reasons why so many people in their twenties now prefer to make the journey to Europe rather than wait for what may never arrive. Young Africans must be given good education and training and beyond that, good opportunities for employment.
We should invest in every possible way in young people, bearing in mind a country's needs: education, culture, work. Exchanges between young people in the Netherlands and Africa should be given close attention. Dutch ROCs (regional Training Centres) should look at whether successful vocational training along the lines of the Dutch MBO (Intermediate Vocational Education) could be established in Africa.
Money
It's a challenge to multiply the effects of every 'aid euro'. That can be achieved by supporting business start-ups. Small and medium-sized enterprises have problems getting going in Africa due to the lack of seed capital. In a somewhat broader context we should be contributing, where desired, to the setting up of effective taxation systems and getting rid of free trade treaties and international taxation agreements that ensure that African countries can make no headway in their development.
We should facilitate investment possibilities for beginning entrepreneurs, which could lead to a growth in trade. At the same time we will ensure that Dutch banks and Dutch corporations go about their business in a responsible manner, pay taxes in the country where they are active and take care to impose small differences in income between boss and staff.
Green
Economic growth has many dangerous aspects: unequal division of wealth leads to a bad social structure, but in addition a great deal of economic growth occurs because it is based on the world's primary resources. These stocks are not only finite, their use is leading to scarcity and to undesirable side effects such as pollution of the environment. The mess created by Shell's oil extraction in Nigeria is a shining example of how not to do things. In addition, much fertile ground and tropical forest (with its important genetic reserves) is disappearing, elephants and rhinoceroses are being exterminated and a great deal is thrown away which in the Netherlands has long been recycled, an example being old mobile phones. At the same time towns and cities in Africa are bursting at the seams. Spatial planning is often chaotic and air- and water quality extremely poor.
We will contribute to maintaining the environment in the broad sense, according to the priorities determined by the country in question.
This is a translation of the article by Eric Smaling and Ben van Gils as published in the Spanning magazine of May 2015
You are here