End social dumping in Europe
26 June 2015
End social dumping in Europe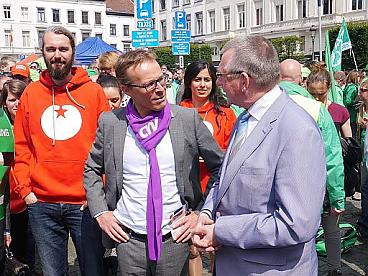 This week Belgian trade unions demonstrated against social dumping - right in front of the European Parliament. The SP's European team, including MEPs Dennis de Jong and Anne-Marie Mineur joined the action along with representatives of the Dutch trade union federations the FNV and CNV.
SP Euro-MP Dennis de Jong says that the issue affects everyone in the European Union. 'Many of the problems about which the Belgian unions were demonstrating are caused by EU legislation,' he notes. 'For example, the Posted Workers Directive means that social premiums and pensions for workers temporarily employed by their firms in another member state are calculated according to the rules in the country of origin. This creates unfair competition, but it's understandable if the assignment is just for a few days. In practice, however, you will often see that these employers no longer ever work in the country of origin. Look at the situation in the building industry or the road haulage sector. In addition, checks on payment of minimum wages and provision of minimum conditions agreed at industry-wide level are insufficient, so that exploitation often goes unpunished.'
At the end of the year the European Commission will give its opinion on whether or not the Posted Workers Directive needs to be amended. De Jong is urging the Dutch government, during the runup to the Dutch EU presidency in the first half of 2016, to persuade the Commission of the necessity of amending the directive to put an end to abusive practises.
You are here