SP: once more, a great result! Biggest party on the left
19 March 2015
SP: once more, a great result! Biggest party on the left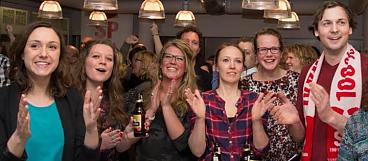 Speaking to party activists, in celebratory mood as it became clear that the SP had once again recorded an extremely positive result, party leader Emile Roemer told them: 'This is an historic evening. We have become the biggest left party in the Netherlands. The SP is a powerful factor in the Senate. An ideal starting point for the SP to be elected to government at the next general election.'
Both governing parties suffered strong losses, and Roemer reminded those listening that it had been 'Prime Minister Rutte himself who made these elections into a referendum on his government. And the result is clear. The Netherlands has done with the policy of austerity. The government should not be sailing a different course, or any course at all, it should be passing the rudder on.'
Election night: Party leader Emile Roemer and Tiny Kox, SP lead candidate for the Senate group, celebrate the result
For the third election in a row the SP – partly through the outstanding performances of leader Emile Roemer in televised debates, and partly through the hard work of SP members – has made gains in national elections. Following the gains in local elections and in last year's European Parliament elections, last Wednesday the party recorded clear progress in the Provincial Assembly elections. With the exception of two provinces – Utrecht and South Holland – seats were gained in every region, one in some, two in others, bringing the total of SP regional councillors to seventy, fourteen more than last time. Bearing in mind that the provincial assemblies will now vote on the composition of the indirectly-elected national Senate, translated into Senate seats, this represents nine – or perhaps even ten – of the total of seventy-five.
The SP outpolled the two left-of-centre parties, the PvdA (Labour Party) and the Green Left. Across the country the SP recorded impressive results, emerging as the biggest party in more than thirty towns and cities, as well as in the Province of Groningen where, having topped the poll, it will take the lead in forming a new Provincial Administration. In the Senate, the coalition government of the right wing VVD and the centre-left PvdA – together with the parties which, while not participating in the coalition, have done a deal with the governing parties not to destabilise it – will soon no longer have a majority. This will make it even more difficult for the government to pilot legislation through the Netherlands' legislature's Upper House.
SP national secretary Hans van Heijningen said that 'Our campaign slogan "Reken af!" ("Check out!") hit home. Just one third of poll respondents expressed the view that the government should continue in office, with a third saying they should 'check out' and a third expressing no opinion.
The challenge for us is to be convincing in our leading position in the opposition and to ally ourselves as a party with people who are beginning to mobilise. We need to learn from Groningen and inside and outside of the representative bodies galvanise the struggle against this demolition government.'
You are here