Our freedom
8 January 2015
Our freedom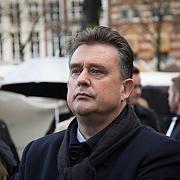 La liberté éclairant le monde (Freedom lighting up the world.) This is how the French described the statue which they gave as a present to the United States in1886.
I'm standing in front of it now. In New York.
On the day that the news about the brutal attack in Paris came in. Just like your own, my thoughts are with the victims, their families and friends. With you I have felt deep anger over the brutal and cowardly manner in which these fanatics have attacked our society.
The attack on the satirical weekly Charlie Hebdo is a direct attack on press freedom, freedom of expression and democracy. It touches the very heart of our free society, a society in which we do not settle debates with guns, but with words.
There are politicians speaking now of 'war'. They are seizing on this attack to reinforce their discriminatory views. This is a perverse reflex which can only worsen the conflicts in our country and in Europe. One of the murdered police officers in Paris was, you should note, a Muslim. He gave his life for our freedom.
The SP wishes to ascertain, in discussion with Prime Minister Rutte, what the attack means for the Netherlands. What more can we do to combat this extremism? How can we defend our freedoms? How can we improve the work of our security services and what can we do at home and abroad to rid ourselves of extremism's breeding grounds?
Freedom of expression and of the press are cornerstones of our free and open democracy. We must continue to stand up for these. You don't do that by curtailing other freedoms, such as the freedom of religion, but by standing firm behind all of the freedoms which make our society what it is. .
We are not willing to, and shall not, bow to violence.
Emile Roemer
You are here