Hope writes history in Greece
26 January 2015
Hope writes history in Greece
With Syriza's inspiring victory, hope has won over despair. In Greece, but also in the rest of Europe.
Not all the votes have been counted, but it's certain that Greek left party Syriza has won the parliamentary election by some distance. At midnight tension still surrounded the question as to whether they would have enough votes to form an absolute majority, if one includes the fifty bonus seats which the Greek electoral system awards the biggest party. If that's the case, Syriza can immediately form a government and get down to work.
In his speech late in the evening on the square in front of the University of Athens, party leader Alexis Tsipras opened with the words 'Hope has written history today.' The Greeks have voted Syriza in order to put an end to the brutally harsh austerity imposed by the EU. As Tsipras said, 'Greece is leaving behind five years of humiliation and sorrow.'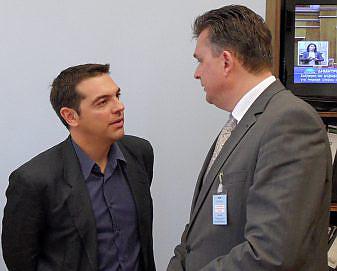 Syriza's victory is, according to Tsipras, a victory for everyone in Europe who is fighting austerity, a view endorsed by SP Senate leader Tiny Kox. 'The victory of hope in Greece means also that in the rest of Europe there is renewed hope,' says Senator Kox. 'Syriza demonstrates that you don't have to go along with the policy of austerity, austerity, austerity. The Greeks have shown us and the rest of Europe that things can be different, however strong the current against which we're swimming.' SP leader Emile Roemer has sent his congratulations to Tsipras.
Monday morning the definitive results will be known, and we will find out whether Syriza has won an absolute majority.
You are here