SP: Take the European Court of Auditors seriously – end the senseless back and forth of money
5 November 2014
SP: Take the European Court of Auditors seriously – end the senseless back and forth of money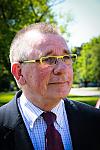 For the 20th time in succession the European Court of Auditors has responded negatively to the European Commission's budgetary accounts. The Court of Auditors' report is alarming. With the revelations of a large number of irregularities at the Commission it is becoming ever clearer that for some time not all of the money has gone where it was intended to go.
SP Euro-MP De Jong, commenting on the report, said: 'Every year we run up against the fact that the percentage of errors is much too high. It simply doesn't suit the Commission to get a grip on the expenditure from the various funds. Also, the Commission is making hardly any progress when it comes to measuring the value added by EU financing. According to the Court of Auditors a great deal of the subsidies are handed out to projects which would have been run without them. It's ridiculous that everything is aimed at using up the available money, without the projects' added value being assessed.'
According to De Jong the Commission is quite content with the fact that the percentage of errors has not increased any further. No attention is given, however, to the unrestricted pumping of money back and forth.
'Only by reforming the agriculture fund and making the structural funds and the cohesion fund available only to the poorest member states can the number of irregularities be reduced,' says De Jong. 'Moreover, only then could the overall budget be reduced.'
Despite the fact that the percentage of errors has fallen, errors are still being made, principally in relation to regional policy, energy and transport. When it comes to administrative spending, there is even an increased percentage, which wasn't the case last year. Remarkable, given that the Commission is itself directly responsible for this.
'It's incomprehensible that the Commission is even making major errors in the payment of salaries and expenses to its officials,' says De Jong. 'Also I find it striking that according to the Court of Auditors, in a number of member states subsidies intended for small and medium-sized enterprises are being given to subsidiaries of multinationals. These are serious errors which the Commission should have discovered much sooner. Small firms have enough trouble accessing the necessary financing, so it's tragic that in various member states multinationals are profiting from funds intended for them.'
You are here