Kox: Lift Israeli blockade of Gaza
5 September 2014
Kox: Lift Israeli blockade of Gaza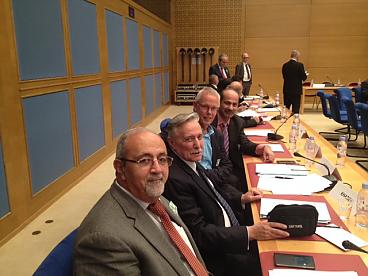 'If the Israeli blockade of Gaza is not lifted soon, the situation of the two million Palestinians there will become untenable. With the chance that more people will flee in across the Mediterranean Sea in small boats, in search of a safer place than Gaza, the biggest open air prison in the world.' This was SP Senator Tiny Kox's response to alarming reports from international experts to the Parliamentary Assembly of the Council of Europe (PACE).
A Palestinian proposal for an investigative commission to be sent to Palestine – both to Gaza and the West Bank – and to Israel, received unanimous support in Paris, where the political committee of the pan-European Assembly, the Parliamentary Assembly of the Council of Europe, was meeting in the presence of delegations from both the Palestinian and Israeli Parliaments.
'According to experts, the reconstruction of Gaza will only be possible if Israel ends its blockade and gives guarantees that what's being built won't shortly be razed to the ground,' says Senator Kox. 'Working together towards a two-state solution would be the best guarantee. In order to achieve that, European countries, and above all the Europe Union, must put a great deal more pressure on Israel. For example, by taking measures against Israeli products from illegally occupied Palestinian areas.'
The Palestinian Parliament's delegation called on the delegation from the Israeli Parliament to urge the release of thirty-six Palestinian MPs from Israeli prisons to enable them to do the work for which they were elected, including participation in meetings of the Council of Europe. Their call received broad support from those present in Paris.
Photo, left to right: Bernard Sabella, chair of the Palestinian delegation to the Council of Europe; Qais Khader, member of the Palestinian negotiating delegation in Cairo; Tiny Kox; Ibrahim Kreishni, Secretary General of the Palestinian Parliament
You are here