Could we please decide for ourselves whether we class gardeners under the reduced VAT rate?
9 March 2014
Could we please decide for ourselves whether we class gardeners under the reduced VAT rate?
This week I received an answer from European Commissioner Algirdas Semeta to my letter in which I asked him, on behalf of the horticultural professional association VHG, about the possible application of the 6% VAT rate to gardeners' services. His answer was a solid 'no'. It would disrupt competition within the EU internal market. This is too crazy for words, of course. The crisis has hit gardeners hard and it makes a great deal of difference if they come under the 21% or the 6% rate. That is something we should simply be able to decide for ourselves.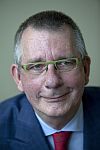 The European Commission is, in this matter, moreover, not the only or even the biggest enemy. Semeta explained the circumstances. He had tried to add gardeners and other labour-intensive services to the list of those for which the member states are permitted to apply the lower VAT tariff, but the Council of Finance Ministers opted for a shorter list. The gardeners were out.
Further study shows that it's even worse than that. The ministers had announced that the list would be shortened still more, because the possibility of a low VAT rate could indeed interfere with competition. Semeta added that in times of budgetary constraint it would be unwise to lower the rate.
Big companies benefit from such uniformity. Throughout Europe the same rules and thus the same VAT rates are applied. Smaller firms often get no advantage from this, especially those which are principally active in the domestic market. The gardeners are not concerned with the question of equal regulations across the EU. They want work, and they want the lower VAT rate accordingly.
This example demonstrates once again the extent to which we are subordinated to the European rule factory. Semeta is quite clear: we are moving towards a single system of VAT in the whole of Europe. Although the member states can still decide for themselves in the case of a number of services how they will be taxed, the trend, according to the Commissioner, is for in the case not only of services but also goods on which a lower rate is levied, stricter agreements will be made. That promises nothing positive. Certainly not for the gardeners, but also not for the Dutch, who would rather make these important decisions for themselves via their national democratic system. High time we had a looser form of cooperation, and time for a bigger SP, in the European Parliament too.
You are here