Palestinian President tells SP's Senator Kox: Europe should be a player, not just a payer
16 November 2013
Palestinian President tells SP's Senator Kox: Europe should be a player, not just a payer
'We want Europe not only in its generosity to help pay for the building of a Palestinian state, but also to take part seriously in decisions as to how we can put an end to the conflict with Israel and the Israeli occupation of our country. The Americans want to do this on their own, but as things stand nothing is happening to bring a solution closer.' This was the clear message which SP Senator Tiny Kox, Council of Europe special rapporteur for Palestine, took from Palestine's President Mahmoud Abbas at the end of his working visit.
President Abbas expressed scepticism regarding the current negotiations with Israel, which are being held under the leadership of US Secretary of State John Kerry. These have already gone on for months but have so far led to nothing at all. 'As a rule, Europeans understand us better, so they should also be intervening in the Palestine-Israel conflict,' said Abbas. He pointed to the longstanding support from European countries for recognition of 'non-member State' status by the United Nations General Assembly. Still better would be approval by the Security Council of full UN membership. In order to demonstrate that the Palestinians are serious, we must ensure that we have well-functioning institutions, Abbas affirmed. All of this must take place while Palestine is occupied by its neighbour Israel, a country which earns many millions from products manufactured in illegal settlements. President Abbas added that he was pleased that from next year these products would not be allowed to carry the 'Made in Israel' label anywhere in the EU. 'That doesn't mean a boycott of Israeli products,' Abbas said, 'but a hindrance to the illegal exploitation of occupied territory. I hope that Europe will stand firm on this. That's extremely important for us!'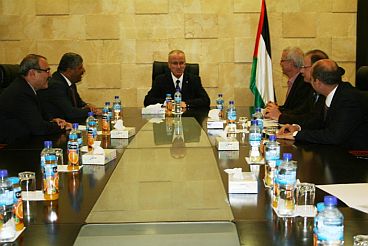 With Prime Minister Rami Hamdallah (centre). Senator Kox is sitting immediately in front of the Palestinian flag
The Palestinian President expressed the hope that the Palestinian Parliament's special relationship with the Council of Europe can be continued, a decision which the forty-seven member states will take in the Parliamentary Assembly in January. In the last week Kox, in his role as special rapporteur for Palestine, has spoken with a large number of people. As well as President Abbas, these have included Prime Minister Rami Hamdallah, a number of other ministers and numerous members of the Palestinian Legislative Council. In addition, in Ramallah he has held talks with the president of the High Court, the Palestinian Commissioner for Human Rights, the head of the Court of Auditors and the top man in the anti-corruption service. In Jerusalem he met with the UN Commissioner for Human Rights.
Kox informed representatives of the Palestinian Parliament that he was considering giving positive advice regarding the continuation of the 'partnership for democracy' between Palestine and the Council of Europe. It was of great importance, he said, that representatives of every political group in the Palestinian Parliament, including Hamas, had let him know during his working visit that they were in favour of continuing this cooperation. The same plea came from all important Palestinian institutions, human rights groups and the media. The SP Senator promised over the coming year to look into how the Council of Europe might offer more practical aid in the construction of an independent Palestine, something which, he said, 'is our duty as a partner of the Palestinian people.' And he advised President Abbas to consider a dialogue with the Committee of Ministers of the Council of Europe on possible accession of Palestine to important conventions on human rights. Finally, Kox stressed the need for parliamentary and presidential elections to be held in the short term. 'I know it's difficult,' he sympathised, 'but easy solutions aren't at the present time granted to Palestine.'
Palestinian Parliament
You are here