SP leader Emile Roemer in Venezuela
1 September 2013
SP leader Emile Roemer in Venezuela
On their way back from their working visit to Brazil, SP leader Emile Roemer, National Secretary Hans van Heijningen and Brazil specialist Peter Runhaar called in on Venezuela.
Venezuela, of course, shares a border with Brazil. Less well-known in most of the world is that it is also a neighbour of the Kingdom of the Netherlands, a term which encompasses a number of former Dutch colonies which, in a series of referenda, have opted for a variety of relationships with the country of whose empire they once formed part. Relationships between the Netherlands and Venezuela don't always go smoothly. Roemer and his colleagues were particularly interested in forming an impression of how things stood in the latter in the wake of the death of Hugo Chavez earlier this year and in the new President Nicolas Maduro.
Just before our departure to Caracas, we received a message from the Venezuelan ambassador in the Netherlands that we would be greeted at the airport by Maria Alejandra Rivas and that Ms Rivas would be our guide throughout our visit. As it turned out, this is just what happened, and in greeting us she was accompanied by a delegation from the Venezuelan government as well as members of our own embassy staff.
Oil industry
Our first meeting took place the next morning and was with Carlos Ramon Mendoza, head of research for the Venezuelan Central Bank, a position he took up after decades in the senior management of the country's oil industry. His was the first of many friendly welcomes by people who were eager for discussion. In two hours he gave us an account of Venezuela's oil history, the Big Seven oil corporations, the history also of rebellion and civil war in the face of the dominance of the elite which used the capital which came into the country principally for their own consumption. The break from this tradition which the recently deceased President Chavez brought about was that now the oil revenues were used above all to improve the lives of the poor. Social housing, public transport, education and health care were the government's priorities. Questioned, however, Mendoza admitted there were problems when it came to launching production, the encouragement of small businesses and the establishment of vocational education. 96% of state revenues derive from the nationalised oil industry, and defective maintenance means that net production is declining steeply, though income remains steady because of rising oil prices.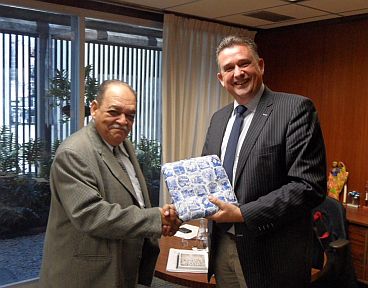 Carlos Ramon Mendoza
Ana Elisa Ozorio
Next we visited Ana Elisa Ozorio, Minister of Education and later of the Environment under Chávez and a member of the executive of the Venezuelan Socialist Party, the PSUV, which has a membership of seven million out of a total estimated population of twenty-two million. She welcomed us at her office in the Latin American Parliament, of which she is a member. She took us swiftly through the last two decades: Chávez' story began in 1992 when he was imprisoned following a failed coup against the government of Carlos Andre Pérez, who had deployed the army, in which Chávez was a career soldier, against people demonstrating against his neoliberal privatisation and austerity policies, killing hundreds. Released after two years as a result of a broad amnesty following the removal of the corrupt Pérez by the Supreme Court, he entered politics and in 1998 was elected President, taking office in February of 1999. His policies inspired the poor, and in the period which followed he won a total of sixteen elections or referenda. He lost only one referendum, in 2007, when it was proposed that the limit on the number of presidential terms which an individual could serve be abolished. However, a second referendum on the same subject in 2009 reversed this result.
Ana Elise Ozorio
In the recent past success has been achieved in reducing the number of people living in extreme poverty from 20% to 6.5% and the number of 'averagely poor' from 60% to 22%, Ozorio said. In addition, together with other left leaders in Latin America, Chávez had succeeded in blocking the plan for the formation of a free trade zone throughout the Americas and had been the driving force behind ALBA, a system of economic and commercial cooperation involving also Bolivia, Ecuador, Nicaragua and Cuba which foresaw in addition social and political integration. This meant, amongst other things, that thousands of Cuban doctors and nurses were now working in Venezuela in order to fill the gap that appeared after the establishment of a system of public health care. There are problems, however: the ex-minister had no answer to our questions as to how the economy would be diversified and the country thus made less dependent on oil exports. Later, our guide shared her own concerns with us: corruption of all kinds, including favours done for friends and family members, misuse of public services, and fiddling in the distribution of government tenders. There was also a culture of 'yea- and nay-saying', which too seldom reflected real convictions. And of course there was criminality, and on such a scale that it was disrupting society.
El Colectivo
We visited 'El Colectivo', a youth project in a complex consisting of dozens of containers decorated by graffiti artists, which sits between a military base and a large barrio. The containers are adorned with flowers and other plants, and have furniture made from recycled wood and iron. There's a radio studio in two old buses and elsewhere on the site studios for photography, film and music. The young people using it come in part from the urban underground culture, some from the nearby barrio. Via graffiti, rap and hip-hop, attempts are being made to offer them an alternative to drugs and violence. Only a minority of barrio youths go to school or work.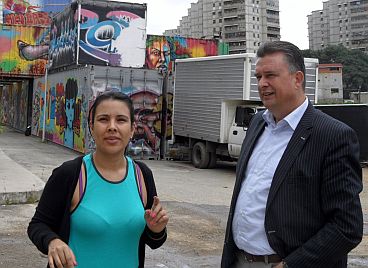 On the visit to El Colectivo
Eduardo Samán
Former Minister for Trade and Commerce Eduardo Samán is an exceptional man, and our guide Maria is a fan, excited to meet him for the first time. Now around fifty years old, he was out of the picture for several years. Rumour was that his actions to counter corruption had made him too many enemies at the highest political level. He has now been appointed by President Maduro as head of Indepabis, the Institute for the Defence of People's Access to Goods and Services, and regularly travels on foot or by bus. 'Our image abroad isn't right,' he said. 'It's got a lot to do with the US government's attitude. In his speeches Obama is reasonableness itself, but by naming Samantha Power as UN ambassador he has shown another side. In a single breath she names us along with North Korea, Iran and Cuba in the list of baddies. In reality we're open to foreign investors, but they have to have something to offer in terms of production, such as jobs and technology. We're not interested in chain stores offering us all kinds of foreign consumer products, because we're already lousy with them.' Samán concurs with Emile Roemer that it is of crucial importance to get production moving, but notes that the biggest part of the country's productive capacity has been transferred to Colombia. He adds that he finds continuing contacts with the left in Europe extremely important, especially in the context of the eurocrisis and the defection of social democracy to the neoliberal camp.
Eduardo Samán
Chairlift to a working class neighbourhood
Later, in the company of locally-based Dutch journalist Tessa Marsman, Marisol, who plays a central role in the life of the neighbourhood which we were to visit, San Antonio, and a couple of other local women, we take a trip on one of the new chairlifts, built to enable people from the poor areas on the hills and mountain slopes of the outskirts to get to the city centre, where most of the jobs are to be found. While we take in the breathtaking views, our hosts talk excitedly about the ins and outs of the neighbourhood for which we are heading, and of the great things they say that their president and leader, Hugo Chávez, did for their part of town: houses built, services created, a shop where subsidised basics could be bought. He had visited the area, and they could not believe that he was dead. 'What a tragedy', they told us. But a great deal of work remained to be done, and despite the fact that the government was on their side, there were still people who kept themselves aloof or spoiled things for others. The neighbourhood organisation had not succeeded in getting people in all of the newly-built low-rise apartments to keep them clean and there was too much crime. Since May they had had help from the police, who were now based permanently there, and who told us when we met them that the number of deaths by violence had been greatly reduced as a result. By far the majority of local people were pleased with their presence, they said, but there had been provocations. The police had been trained to avoid violence 'but if people are looking for it,' they told us 'we can take it, and they know that too.'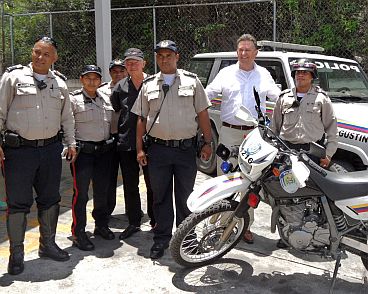 Police officers in San Antonio
In the medical centre we talked to doctors and nurses, several of whom were from Cuba, as well as a few patients, who expressed satisfaction with their treatment. Back on the street, we reflected that in this poor neighbourhood the glass is half full or half empty, depending on who you talk to. 'But we're making progress,' said Marisol, 'and to date we have always won elections here, though far from everyone votes, so we still have a lot to do. And we need also to ensure that people participate in the things that we organise.' It might not be a laugh a minute to live in this district, but we were enjoying our visit enormously. And when we left we were asked of course why we were spending only a few days in Venezuela and when we're coming back, because then they'll organise a party with music and so on.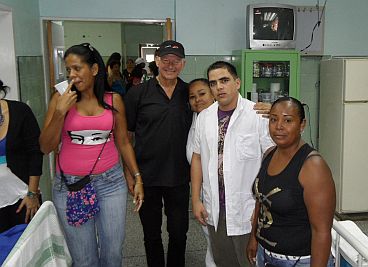 In the health centre
A critical journalist
Ecarri, a journalist, is critical of the government's socio-economic policies. Certainly the poor are better off, but if the economy doesn't gain new impetus, he said, we'll be living on tick and in the end nobody will gain. Chávez's party was taking increasing control of the state and legal system, which he doesn't like to see. Not that he's enamoured of all of the opposition. He will have nothing to do with 'crazies and fascists' and when in 2002 a section of the army seized power in a coup d'état, he had the courage not to transmit the military coup leaders' communiqués. That the coup failed after a few days as a result of the mobilisation of millions of Venezuelans does not make his actions then any less brave: anyone who doesn't in such a situation bow before the law of the strongest runs the risk of imprisonment or worse. In two days of misery, militants of the extreme right were in search of an Afro-Brazilian left politician whom they intended to put on public display in the market in a cage. Ana Elise Ozorio, with whom we had spoken earlier, was one of those who also showed her best side, filling her house with left activists in hiding.
Ecarri wasn't only negative about the present government's policies, or the confrontational atmosphere in a parliament in which it was claimed that Chávez supporters had recently used physical violence against opposition MPs, but was also pessimistic about the country's future. There was an unwillingness to talk which made breaking down polarisation impossible. He expressed support for the opposition leader Henrique Capriles who lost narrowly to Maduro in the recent presidential election. Yet it is also marked how positive he is about President Maduro, saying that though often described by the opposition as an 'untalented bus driver' incapable of giving the country respectable leadership, Ecarri was 'under the impression that (his) strategic ingenuity, which he has demonstrated in the last few months, has shown him to be anything but a Chávez puppet. He's more pragmatic than Chávez and that's what our country needs.'
TNI researcher
Edgardo Lander has, in his role as the Venezuelan researcher attached to the Transnational Institute in Amsterdam, spent the past decades campaigning against US-promoted free trade treaties. Despite the fact that these treaties have, through the effectiveness of the left's opposition, failed to come about, Lander is not optimistic about his country's future, seeing the Venezuelan model from both an environmental and an economic viewpoint as a disaster. The oil extraction on which the country depends is destroying the environment and has in relation to the economy led to the so-called Dutch Disease, a condition where revenues from oil extraction blocks development. Capital coming in was used to finance imports, and production, not to mention exports, grinds almost to a halt. Rent-seeking capitalism and Leninist management go hand in hand, he argues, and little is done to encourage production or the country's necessary democratisation. He is, on the other hand, positive about the fact that millions of people have escaped marginalisation and poverty, that the mass of the people have been politicised and that as a result the prospect of returning to earlier times has been ended. Even the opposition has been transformed by this process. When they don't take at the very least a social-democratic position, the people make mincemeat of them.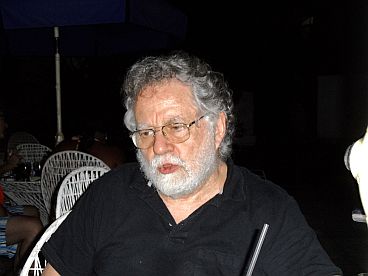 Edgardo Lander
The neighbourhood committee
Our visit ends with a trip to a very different neighbourhood made up of just over a hundred splendid dwellings housing five- or six hundred people. It's clean, with a great deal of greenery, flowerbeds and herbs; in short, a paradise for poor people. It hasn't always been like this. Older inhabitants of the district had in 1981 seen their makeshift dwellings washed down the slope after several days of dramatic rainfall. More than twenty years later they were still living in hovels cobbled together from bits of plastic, girders, boards and zinc plates. Look around Caracas and you'll see plenty of misery, yet this neighbourhood, which had once looked as wretched, had been improved following an impromptu visit from Chávez. He spoke to a number of inhabitants, including Maria Marqués, our informant, then gave the mayor the task of clearing up the mess, with results which we could now see for ourselves.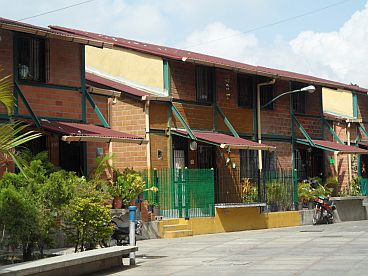 We asked Maria how this had been achieved: 'organisation' was her answer. 'The people here are conscious and well-organised, which means that there's no room for people who create a mess or cause problems. We do all our own repairs, we've laid sewerage and set up a crèche. We're building a wall alongside the motorway, because we don't want every Tim, Dick and Harry coming here. We make sure everyone has an income, taking a small sum each month for the communal kitty.' The government has in recent years given neighbourhood committees formal powers and access to funds to improve conditions. Carmen Zerpa, who is also active in the neighbourhood committee, says that 'not everyone here has the capacity to administer matters and keep the finances in order. Sometimes they mess around, I'm sorry to say. In this country' she continues, 'we have a glaring shortage of skilled people and people establishing small businesses. We have to change this through education, because a country that only consumes and doesn't build anything up, of course that won't work.'
You are here