Van Raak: 'Does the NSA contribute to financing the Dutch secret service?'
2 August 2013
Van Raak: 'Does the NSA contribute to financing the Dutch secret service?'
SP Member of Parliament Ronald van Raak wants to know if the controversial US secret service the National Security Administration (NSA) has in recent years donated money to its Dutch counterpart, the AIVD. His concern comes in reaction to reports that the NSA has paid €114 ($150m/£100m million) to Britain's secret service body GCHQ.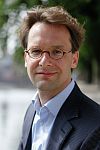 'In exchange for this money the Americans probably gained access to data, while the British provided them with services and didn't ask too many critical questions,' says Van Raak. 'I want to know if the NSA is also giving financial support to the AIVD, as well as why minister of the Interior Ronald Plasterk is staying so deafeningly quiet about this. While the German government for example keeps asking the US questions, our own government meekly allow every new revelation about the Americans' misconduct to wash over them. The security of our citizens is our government's responsibility, and we can't farm that out to the Americans, who have little regard for our rules and laws or for the privacy and security of our citizens.'
Partly on the initiative of the SP, Parliament has asked the supervisory authority, known as the CTIVD to launch an investigation into Dutch involvement in the US wiretapping scandal, which arose due to revelations that the NSA had access to huge amounts of digital information, including that of Dutch citizens.
You are here