Artist Ai Weiwei doesn't expect greater freedom in China
7 May 2013
Artist Ai Weiwei doesn't expect greater freedom in China
On the second day of our visit to Beijing we met a number of creative people and political activists. Most striking was Ai Weiwei, the enfant terrible of the contemporary Chinese art scene. We met him in 'art district 798', named after one of the factories which once operated there. Nowadays it teems with art galleries and artists' workshops.
---
Harry van Bommel is a Member of Parliament for the SP. He visited China as part of a Dutch Parliamentary delegation.
---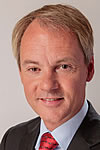 Ai Weiwei isn't only a visual artist, but also a critic of the Chinese authorities. In 2008 he won a major Chinese art prize, awarded for his entire oeuvre. He contributed to the development of the Olympic Stadium in Beijing, but withdrew as a result of the repressive atmosphere surrounding the Games.
What led to a real bust-up with the authorities was a campaign which he began in May, 2008, following the earthquake in Szechuan, to gather the exact number and the names of the victims. Many schools proved inadequate, often as a result of corruption rather than the actual building regulations. In the wake of this, Ai Weiwei spoke out many times on the lack of democracy and freedom. Eventually, in 2011, he was arrested on suspicion of tax evasion and was imprisoned for some eighty days, after which he was placed under house arrest. In a protest against this and in order to support him, for many weeks sympathisers threw money over the fence around his studio.
As strong a man as Weiwei must then be, during our lunch he ate hardly anything. He spoke all the more as a result, and told us that he did not expect any improvement from the new government, though he hoped that there wouldn't be any worsening. Though it costs a great deal, he is active on twitter, which is out of the question for most people in China, and he has many followers. Weiwei remains under heightened surveillance but says what he wants to say, and everyone can hear it. His passport has not, however, been returned to him, so he cannot travel abroad.
In the evening we met a number of interesting guests in a dinner modelled on speed dating, during which each Dutch MP had to move tables after every course so that all of the guests would have chance to speak with them. Amongst those attending were a number of lawyers, with whom we spoke, about freedom of expression and about Falun Gong, amongst other things.
Falun Gong are feared by the authorities because of their high degree of organisation, their critique of the abuse of power in China and because of the consideration that as a religion they threaten Communist ideology.
Advocates of homosexual emancipation explained that their struggle was given a real boost by the international women's conference held in Beijing in 1995. In 1997 homosexuality was removed from the criminal law and it is now seen more as a psychological illness, yet many gays remain behind bars while some 80% are in heterosexual marriages. The one-child policy plays a role in this, as boys without brothers can't produce offspring with the family name if they are exclusively homosexual and for their parents this is a source of enormous sorrow, and even a scandal.
The clergyman who had performed the service which I, along with a number of other MPs, had attended that morning, was also present. The man expressed himself with ease on any and every subject. Perhaps it helped that he is at the same time a businessman and is therefore obliged to be able to communicate with everyone.
We will be speaking to a lot more people this week but only in exceptional cases will I be able to name them. The Chinese government lives in continual fear of criticism which might be levelled at it, because it certainly isn't prepared to face a 'Chinese Spring'. An attempt at such was made when students rebelled in Tiananmen Square in 1989, a protest which led to bloody slaughter. The hope now is that persistent economic growth will guarantee stability. On the other hand this can also lead to greater longing for freedom. In the days to come we'll be asking politicians how they see this.
This opinion originally appeared, in Dutch, in the Dutch national newspaper Trouw.
You are here