Van Gerven 'shocked' by abuses in Brazilian soya cultivation
3 October 2012
Van Gerven 'shocked' by abuses in Brazilian soya cultivation
SP Member of Parliament Henk van Gerven describes himself as 'shocked' by tales of abuses on Brazilian soya plantations. Van Gerven spoke this afternoon with a Brazilian delegation on the effects of soya production on people and the environment.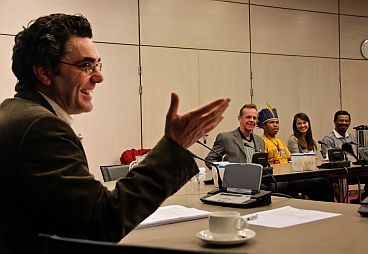 'Indigenous leaders and farmers are being murdered so that there is more room for soya plantations, says Van Gerven. 'The large-scale cultivation of soya for feed for Dutch livestock is having enormously damaging effects on the environment. '
The Netherlands is the number one importer of soya in the world. Intensive livestock farming is a major consumer of soya. In its production, Brazil is cutting a great many corners when it comes to limits and standards. Small farmers are being driven from their land, tropical rain forests cut down, workers subject to exploitation and large areas polluted by pesticides and herbicides.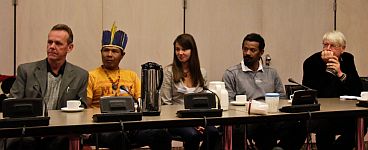 Genito Kaiowá, one of the members of the delegation, told how his father had been murdered in order to make space available for soya cultivation. He expressed to Van Gerven the hope that the Netherlands would call Brazil to account over such abuses and that the criteria for responsible soya cultivation would be tightened up.
Henk van Gerven promised the delegation that he would raise the matter with the Dutch government and Parliament. 'I am no supporter of the large-scale import of soya from Brazil,' he said. 'Europe could easily supply its own needs for food for human beings and animals. But if soya is being imported, then it should be produced in a sustainable fashion and not at the cost of the small Brazilian farmer or of the indigenous population.'
You are here