Van Bommel observer at Georgian elections
29 September 2012
Van Bommel observer at Georgian elections
SP Member of Parliament Harry van Bommel will be an official observer at Monday's elections in Georgia. Van Bommel will form part of the delegation of 350 observers despatched by the Organisation for Security and Cooperation in Europe (OSCE) whose members will be joined by a hundred observers from foreign embassies in Georgia. The ruling United National Movement (UNM), led by current president Mikheil Saakashvili, will be challenged principally by a coalition of opposition parties calling itself Georgian Dream. Saakashvili has been under fire as a result of a scandal involving torture in a Georgian prison, acts which formed the subject of a recently revealed video taken inside the facility.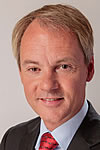 At the last parliamentary elections in 2008, President Saakashvili 's party won 119 of the 150 seats. It's electoral list is headed by Parliament Chair Davit Bakradze, while incumbent Prime Minister Vano Merabishvili is once again a candidate for the post. The President's popularity fell sharply as a result of socially retrogressive legislation and his policy of liberalisation and privatisation. UNM now promises to generate more employment and improve agriculture, as well as introducing health insurance and investing in road building. In addition, the party has promised families a voucher of 1000 lari (about 500 euros).
Opposition group Georgian Dream is led by billionaire Bidzina Ivanishvili, who last October unexpectedly announced his intention to run in the coming elections. In February he formed the coalition of six opposition parties representing a broad spectrum of opinion. Georgian Dream is campaigning against Saakashvili and his party, but it is pro-western and pro-NATO, though Ivanishvili does call for more pragmatic relations with Russia. The coalition's leading candidate is retired footballer Kakha Kaladze, once of Milan and for several years captain of Georgia's national team.
On the eve of the elections mass demonstrations took place in response to systematic torture in a Georgian prison. Images of the torture were recently posted on the internet, provoking uproar. The accusation is that Saakashvili must have known about the practices. Two of his ministers have resigned while large numbers of prison staff have been suspended from duty.
In addition to an Van Bommel, four other Dutch people are present as short-term observers while two form part of the long-term observer team which has spent five weeks in the country to assess the election process. Van Bommel has previously acted as an OSCE observer in Ukraine and Russia.
You are here