SP supports natural cosmetics firm's call for European ban on animal tests
3 February 2012
SP supports natural cosmetics firm's call for European ban on animal tests
Every year in the European Union millions of animals are subject to laboratory tests aimed at establishing the safety of cosmetics, despite a decision in 2000 to ban the practice. The relevant EU directive came into force in 2009, but an exception was made for cases where no alternative existed. In such instances the ban will not come into force until next year. LUSH, which does not test its cosmetics on animals or use any animal products in them, opposes any extension of this, a stand which is supported by SP Euro-MP Dennis de Jong.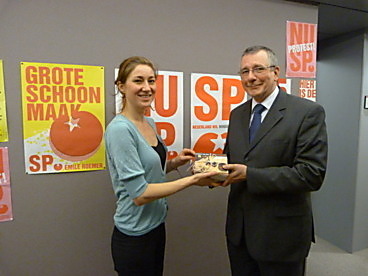 SP Euro-MP Dennis de Jong receives the petition
There are now rumours that, under pressure from the cosmetics industry, the European Commission will be requesting an extension to the continuation of the existing exceptions and the postponement of the 2013 deadline.
The SP's opinion is that the ban must be upheld on the grounds that it would be perfectly possible to manufacture cosmetics free from animal testing from the more than 8,000 ingredients which have already been tested. On 25th January SP Euro-MP Dennis de Jong received a petition signed by hundreds of LUSH customers calling for the undiluted maintaining of the ban on animal tests. De Jong assured LUSH representative Aan Bregtje Cals that if the Commission did come forward with a proposed postponement he would do all he could to persuade as many MEPs as possible to vote against.
You are here