Kox chosen to lead post-election observer team
16 December 2011
Kox chosen to lead post-election observer team
The Council of Europe will send a further team of observers to Russia following the remarkable events surrounding the parliamentary elections on 4th December. SP Senator Tiny Kox has been asked to lead the mission.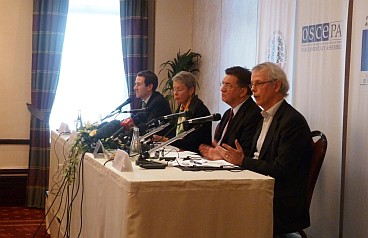 According to the Council of Europe a great deal was wrong with the elections to the State Duma, as the Russian Parliament is known. At the end of January the Parliamentary Assembly of the Council of Europe will discuss a report from Senator Kox, who headed the original election observers' team. Prior to the discussion the Assembly will want to know the manner in which its biggest member state has reacted to abuses at the ballot box.
In response to international criticism and protests at home President Medvedev has announced the establishment of an enquiry into possible fraud. On 10th December an estimated 80,000 demonstrators gathered in Moscow, while in dozens of other Russian cities protests also took place. A further demonstration is planned for 24th December. The Russian authorities have already granted permission for this.
One of Senator Kox's proposals to the Russians is for a structural reform of the Electoral Council. At a press conference following the elections he said that "the lack of an impartial referee makes it impossible to play the game called democracy honestly." Since then there has been open talk in Russia of the unsuitability for its function of the existing Electoral Council.
According to the Russian media, a complaint lodged by the Chair of the Electoral Council against Kox's actions has been declared by the public prosecutor to be ungrounded.
You are here