European Parliament supports SP proposal for check on effects of new laws on small businesses
13 September 2011
European Parliament supports SP proposal for check on effects of new laws on small businesses
The European Parliament has voted to support the proposal from SP Euro-MP Dennis de Jong for the introduction of a parliamentary check on the impact of European laws and rules on small and medium-sized enterprises (SMEs). 'Working with representatives of the small business sector, I developed these proposals last year,' says De Jong. 'The European Parliament has now adopted them. That's good news for real entrepreneurs in the Netherlands and Europe.'
In Rotterdam, the Netherlands' second largest city, Dennis de Jong has established a feedback group of shopkeepers and the self-employed. The group discusses with De Jong specific problems they have encountered while, on the other hand, frequently seeking information as to how European proposals will affect them. Their view is that their interests are not taken into account until it is too late.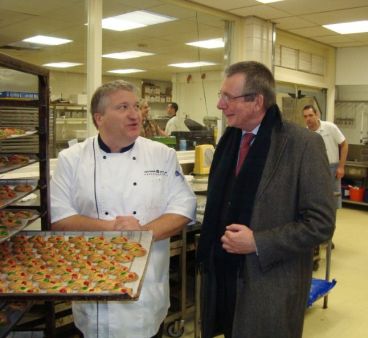 Dennis de Jong on a visit to a Rotterdam patisserie
De Jong understands the entrepreneurs' complaints: "European regulation is often drawn up with the aid of major corporations. Consideration is given to small businesses only when the laws are put into practice and prove unworkable. Now, the rules will be scrutinised earlier on so that small businesses don't encounter problems afterwards." The European Parliament's 'SME-test' will be conducted before the definitive vote on a measure. Any changes which the EP wants to effect will then be specifically tested for their impact on small businesses.
You are here