SP demonstrates solidarity with Syrians
6 August 2011
SP demonstrates solidarity with Syrians
'We must have stricter sanctions against the regime in Syria. The international community cannot stand idly by and watch the Syrian President Assad butcher his own people. Economic sanctions must be imposed.' So said SP Member of Parliament Harry van Bommel during Friday's demonstration in The Hague. 'It's crazy that Shell is still doing business in Syria and that Assad's tanks are able to run on their fuel. Charges should also now be brought against Assad in the International Criminal Court. Given that The Hague is the legal global capital, the Netherlands has a duty to do this.'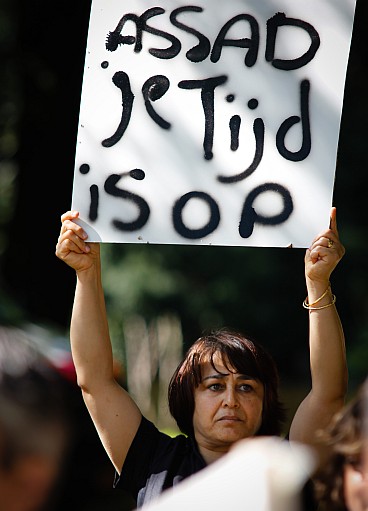 'Assad your time is up'
A hundred or so people, most of them from the Syrian community in the Netherlands, gathered in front of the Ministry of Foreign Affairs in The Hague to demonstrate their solidarity with the Syrian people. They demanded that the Dutch government no longer recognise Assad's legitimacy as President of Syria and that the ambassador of the Netherlands be recalled. However, after a meeting at the ministry with the Netherlands' human rights ambassador Lionel Veer it became clear that the Dutch government is not, as things stand, prepared to take such a step.

SP Member of Parliament and foreign affairs spokesman Harry van Bommel (centre)
The demonstration was organised by Het Jasmijnplein Rotterdam and the Support Committee for the Syrian Revolution and was given support by the SP, the Labour Party, the Middle Eastern working group of the centre-left party Groen Links (Green Left) and the Christian peace group IKV Pax Christi. It was preceded by a march from Het Plein – the square in front of the Dutch national Parliament in The Hague – to the Ministry of Foreign Affairs. The demonstration was addressed by Harry van Bommel, Labour's Sjoera Dikkers, members of the Jasmijnplein/Syria Support Committee and Lionel Veer. Syrian opposition leader Hathem Maleh, who is on a round tour of Europe aimed at drawing attention to the Syrian population's suffering, made a surprise appearance. His summary account of the regime's enormities once again made the need clear for a rapid change in Syria.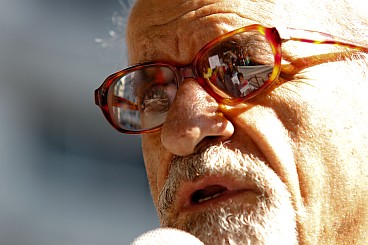 Hathem Maleh
You are here