European Arrest Warrant must be reformed
8 June 2011
European Arrest Warrant must be reformed
SP Euro-MP Dennis de Jong is urging European Commissioner Viviane Reding to bring forward proposals for changes to the European arrest warrant. 'As things stand,' says De Jong, 'Dutch citizens run the risk of finding themselves in a situation where they have virtually no rights. I want to see a reform which would mean that an arrest warrant could be refused if conditions in the prisons and other detention facilities in the country issuing it are inhumane. We must not allow any more Dutch citizens to be detained in degrading conditions in other member states of the European Union as a result of an arrest warrant.´
During the debate with Commissioner Reding, De Jong will ask for special attention to be paid to the case of a Dutch businessman operating in the fruit and vegetable trade, Cor Disselkoen, who has on two occasions been placed in detention in Poland under appalling conditions, following what his professional association describes as "vague and false accusations". SP Member of Parliament in The Hague Sharon Gesthuizen last week put the same request to Justice MInister Ivo Opstelten. The two SP elected representatives are hopeful that with pressure from both the Dutch and European Parliaments, Disselkoen's nightmare can be brought to a swift conclusion.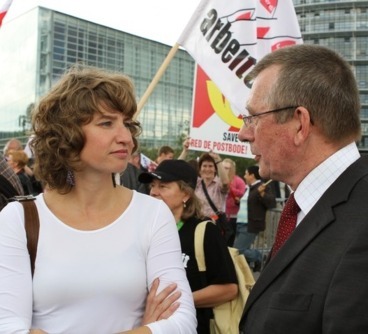 Dennis de Jong and Sharon Gesthuizen in front of the European Parliament in Strasbourg.
De Jong was amongst those MEPs who called for a debate on the European arrest warrant, believing as he does that confidence in every EU member state's legal system is in some cases misplaced. "I've requested that the Commissioner propose attaching strict rules to the application of the arrest warrant so that situations such as those in which Disselkoen found himself can be avoided in the future. I have also urged that suspects be given the right to challenge an arrest warrant in their own country as well as in the member state issuing it," he says.
You are here