European trade unions' warning on economic governance
6 May 2011
European trade unions' warning on economic governance
The new rules for economic governance mean that Europe is going in the wrong direction, said outgoing president of the European Trades Union Council (ETUC) this week. In common with the SP, ETUC is resisting the current austerity feeding frenzy.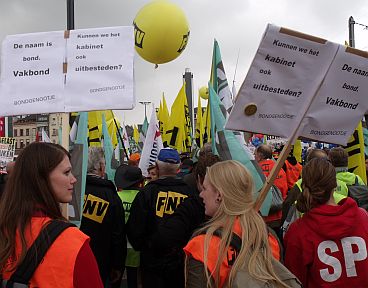 This spring tens of thousands of trade unionists took to the streets of Brussels to protest against Brussels' plans.
Pressure from those in power to reduce wages, pensions, benefits and public spending in general will not lead to the hoped-for economic growth. Monks offered Greece and Ireland as examples of countries which, having applied austerity measures, now face a collapsing economy as a consequence.
More importantly still, the cuts involved affect only the man and woman in the street, with the burdens of austerity being absolutely unfairly divided. Managerial level staff in Europe saw their incomes rise by a quarter last year, while on average wages rose by only 2%. According to Monks, young people are the principal victims.
Monks will therefore oppose the agreements which government leaders are planning to confirm at the European Council Summit on June 24th. The SP, together with trade unionists and other likeminded groups, will be campaigning to pressure Dutch Prime Minister Mark Rutte to withhold his agreement to the Brussels plans.
You are here