European Parliament backs postal workers
7 December 2010
European Parliament backs postal workers
SP-Euro-MP Dennis de Jong yesterday launched a petition amongst his fellow MEPs in support of a sound postal sector. The petition calls on the European Commission not to impose fines on those countries which have not yet liberalised their postal sector. 'Liberalisation in the Netherlands led to mass redundancies, social breakdown and deteriorating service to the consumer. We must protect the rest of Europe from this and where possible reverse it.'
Dennis de Jong speaks.
The petition was signed by MEPs from the centre-right European People's Party, the centrist ALDE group ('liberals'), the centre-left group of the Progressive Alliance of Socialists and Democrats, the Greens, and the United European Left, to which the SP is affiliated. By yesterday it was already clear that discontent over liberalisation went well beyond those who took the initiative to launch the petition. 'I received similar emails yesterday from a number of MEPs who had decided spontaneously that they wanted to sign the petition, and others came to the launch in order to add their signatures to a giant postcard.'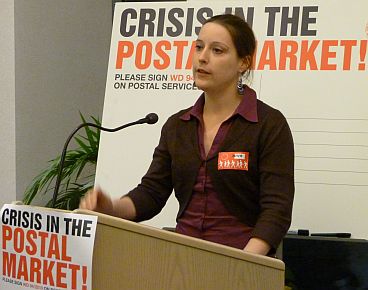 Cornelia Berger of international postal workers' trade union federation UNI-Global Union expresses her support for the action.
The action was supported by the international trade union federation for postal workers, UNI-Global Union, which has announced that it plans to send postcards to members of parliament in every country and from every political group calling on them to sign the petition. The union and the SP view the petition as an expression of support for the Dutch postal workers. The petition exerts pressure on the Commission to launch an immediate enquiry into the social consequences of liberalisation in countries such as the Netherlands. On this basis, it is expected that the Dutch government could be held to the obligation imposed by the EU's Postal Directive to ensure universal service and good working conditions.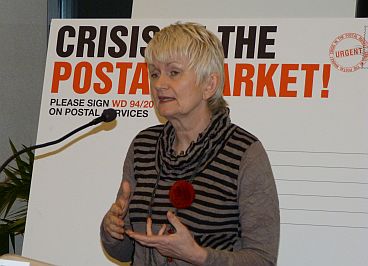 Support came not only from the left. Here ALDE (Liberal) MEP Marian Harkin expresses her support.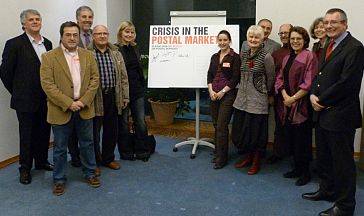 Trade unionists from different EU member states join MEPs to pose with the petition.
You are here