International trade union prize goes to Dutch cleaners
8 November 2010
International trade union prize goes to Dutch cleaners
The global trade union umbrella body UNI Global Union has rewarded Dutch cleaners with a unique international prize. The prize, which is given out only once every five years, was awarded for the cleaners' successful strike last spring. After nine weeks of actions, of stations full of dirt and litter and mountains of rubbish in the streets, the cleaners won a greatly improved national agreement national pay and conditions agreement.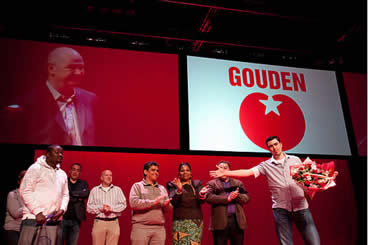 Ron Meyer (right) with the cleaners, postal workers, catering staff and home helps.
The SP national congress in April stood four square behind the cleaners' actions. As a member of the union's executive, SP activist Ron Meyer played an important role in the victory. Meyer, who was number 22 on the SP list for the parliamentary elections which saw the party win 15 MPs, received the Golden Tomato – the party's award for outstanding achievement - for his inspiring role.
In today's edition of leading national newspaper De Volkskrant, Meyer said that he believed that the action had been so successful because for once it was not union officials but the strikers themselves who took the limelight. "These people are in many cases migrant workers and women doing contracted work designed to cost as little as possible. They are in every respect invisible, but by means of their strike were demanding a place in society."
Two representatives of the cleaners will be presented with the prize on Tuesday at a conference attended by 2,000 people.
You are here