EU Parliament stops Brussels' meddling with craft butchers and bakers
16 June 2010
EU Parliament stops Brussels' meddling with craft butchers and bakers
SP Euro-MP Dennis de Jong has welcomed the result of today's vote on food labelling. "During last year's election campaign for the European Parliament, we stood four square with traditional producers who want to avoid being buried under European labelling prescriptions which are impossible to implement. Bakers and butchers would have been obliged to stick enormous labels to their unpackaged products. For small independent producers this would have lead to unacceptable costs."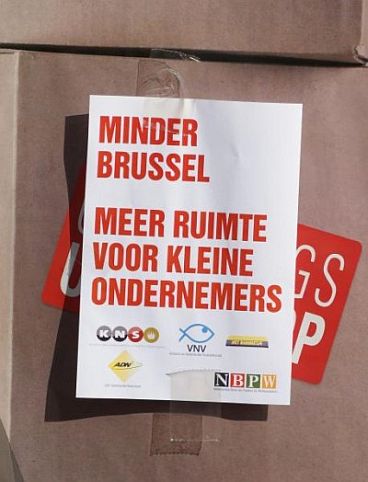 Poster reads: "Less Brussels. More space for small buisness"
The SP has for many years been a warm advocate of the interests of small businesses. National MP Sharon Gesthuizen, for example, recently produced an action plan, the second of its kind, in which a number of concrete proposals designed to strengthen the position of small and medium-sized enterprises (SMEs) were made. In the European Parliament too the SP is in the forefront when it comes to helping small businesses. "Often with the best of intentions rules are approved in the European Parliament which are impossible for SMEs to implement," says De Jong. "So I've consistently voted against all sorts of ideas of this kind and in that respect have contributed to winning a ruling that the European labelling rules will not apply to unpackaged foodstuffs, so small butchers and bakers will be largely out of its scope."
Because the European Parliament's report bans member states from introducing complementary rules, De Jong nevertheless opposed it in the final vote, as he explains. "Some rules would be better off being tested first of all in practice, for example in a single country." This, he says, includes the 'traffic light system' by which foods will be classified as to how healthy they are. "In Brussels there remains a total reverence for the internal market in which complete harmonisation of the law is an end in itself."
You are here