Weeklog Kartika Liotard: Attracting Attention
16 April 2010
Weeklog Kartika Liotard: Attracting Attention
Here in Brussels everything turns on the question of attention. You want the public to know about a social problem, to attract attention to it so that political pressure is created. But how do you make the problem visible? Well, you can do it by demonstrating, as the postal workers did this week, shouting at the tops of their voices on the square outside the European Parliament to show their anger at the liberalisation of the postal market.
At the same time, inside the parliament building there was a silent protest in the form of soundless images of the homeless. This action was also significant, even if it attracted less notice. I'm saddened that you continue to come across so many homeless people everywhere, though they are usually kept away from the parliament in Brussels. "My" street person wasn't there today. I went looking for him to ask him if he knew that there was something going on inside that concerned him. But I heard that he hadn't been seen in his usual place for a few days. It's to be hoped that he - and his dog - are all right.
Inside the building, he and other homeless people were the focus of attention. Feantsa, the European Federation of Organisations Working with the Homeless, together with two Danish organisations, presented works by sculptor Jens Galschiot from Odense, life-sized statues of homeless people, in a busy part of the parliament building. Jens allowed me to be photographed with one of his bronzes, expressing the hope that I would pay some attention to his project. That hit the mark. The last few days I have been gathering support within the United Left group, drawing attention to the way in which Brussels ignores the interests of underprivileged people in Europe. Those without a roof and those without a real home certainly belong to that category, but so do the people from the post without decent working conditions, people who sometimes have to do two jobs to make ends meet.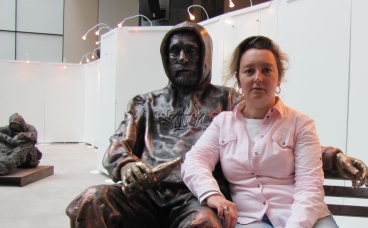 Kartika with a sculpture at the exhibition
2010 is, you should note, the Europe Year against Poverty and Social Exclusion. In a previous weblog I said that Dutch Prime Minister Jan Peter Balkenende was hard-hearted, because it pleases him to see the EU taking, as things stand, no – that's right absolutely no (!) measures to achieve European social objectives. According to Balkenende, the EU should work only towards economic goals, and this will be enough to solve the problem of social degradation in Europe. My homeless friend in Brussels, but also the postie in my village back home in the Achterhoek region of the Netherlands, know better. The neoliberal market-think of the EU knows no boundaries.
You are here