SP: successful EU seminar on Kirkuk
28 April 2010
SP: successful EU seminar on Kirkuk
SP Euro-MP Dennis de Jong declared himself pleased by Monday's seminar in the European Parliament, "Kirkuk and Disputed Territories", which he hosted. The seminar was organised by the Kurdish Institute in Brussels and the Kurdish Educational, Scientific and Cultural Centre. Kurdish Institute president Derwich Ferho and SP national parliamentarian Harry van Bommel, the party's foreign affairs spokesman, also described the seminar as "successful".

Full hall for seminar – Photo: European Parliament
During the seminar a great deal of attention was paid to Article 140 of the Iraqi Constitution which provides for a referendum over the future of Kirkuk, a sensitive subject due to the number of different ethnic groups who lay historic claim to the town, which lies in an oil-rich area. Hikmat Karim, one of the leaders of the Patriotic Union of Kurdistan, dwelt on the rights of Kurds to Kirkuk and referred to the harm they had suffered under the government of Saddam Hussein. Professor Kamal Ahmad went into the historic context of the questions surrounding Kirkuk. Speakers from Turkmen groups challenged the historical account and stressed that the population make-up of Kirkuk through the centuries had changed enormously. Belgian journalist Paul Vanden Bavière said that the Kurds should not expect very much from the European Union. He compared the situation in Iraq with that of the former Yugoslavia, which, in his view, "fell apart because of the interference of the EU, with all the consequences of that." Harry van Bommel said in reaction that the European Union's involvement in Iraq was "certainly desirable from an economic and political point of view. But it is the Iraqis themselves who must decide Kirkup's future."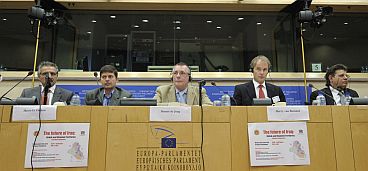 Dennis de Jong, Harry van Bommel and speakers – Photo: European Parliament

Derwich Ferho drew the seminar to a close with a number of conclusions. He stressed the importance of dialogue between the different parties and the involvement of other countries in the de region. In addition, he stated that in the future the Kurdish Institute would continue to work with all of the parties involved in order to arrive at sustainable and peaceful development in the region.

Harry van Bommel and Hikmat Karim

You are here