Uruzgan Crisis: 'Cabinet's shameful backflips'
18 February 2010
Uruzgan Crisis: 'Cabinet's shameful backflips'
"That the cabinet is doing backflips over a new mission in Afghanistan is shameful." That was what SP leader Agnes Kant said on Wednesday in the debate around the chaos in the cabinet precipitated by NATO's request for a new mission in Uruzgan.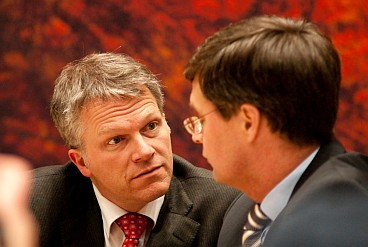 Bos and Balkenende before the start of the debate
Below is Agnes Kant's contribution to the debate
The government is dragging itself along from conflict to conflict. Marriage guidance no longer seems to me to be an option. This morning I read somewhere that the plug is certainly in, but the power has been cut.
Even if things are once again smoothed over, this cabinet has lost its last shreds of credibility. There is a pattern of mutual mistrust. The government isn't governing, it's governed by its own internal quarrels.
The SP was against the war in Afghanistan. This hopeless war must stop. More soldiers mean more violence, more victims.
Parliament recently urged the cabinet to stick to its earlier decision. Namely, to remove all soldiers by the end of this year and begin no new mission in Uruzgan.
NATO's request stands squarely at odds with this. How can that be? How can the foreign minister's contacts with NATO have led to a request to begin a new mission in Uruzgan when it is obvious that a parliamentary majority would not support this? And how can it be that, after the cabinet has discussed this sixteen times, a request is rolled out which one of the coalition partners and the deputy prime minister have said is not negotiable?
In last week's public row Foreign Minister Maxime Verhagen stated that Vice-Premier Minister Wouter Bos was completely aware of his contacts with NATO. Bos stated, however, that the request was not being made on his behalf. At parliamentary question time last Tuesday Verhagen said again that all contacts had taken place in proper consultation with the relevant minister and that this option was therefore most certainly negotiable.
They can't both be telling the truth. Could we therefore now have some clarity from both gentlemen please? Did Vice-Premier Bos know or did he not know that this option would be discussed with NATO, yes or no?
I'm also curious to know whether still more options are under negotiation with NATO and if so which options? Is it possible that NATO will shortly, perhaps even any time now, come forward with a new request?
Vice-premier Bos has said that "at the end of this year the last Dutch soldier must leave Uruzgan, that we must keep this promise and that means that NATO's request must receive a negative answer. Naturally I am curious to know what the Prime Minister and the Foreign Minister think of this.
It concerns a weighty question: namely, whether or not our soldiers will leave Uruzgan. That the cabinet is doing backflips in the street about this is shameful.
You are here